Revive the Colors of a Chalky Slate Surface with a Cleaning, Sealing, and Enhancement Service
September 29, 2016
Slate is a beautiful natural stone that can be used for different indoor and outdoor surfaces. It is one of the most desirable stones due to its durability – there is less maintenance required to make it look good in comparison to most stones. It will enhance the look of any space and raise the value of a property. With its unique appearance and lovely shades of black, gray, and charcoal, it makes any surface look attractive. However, not everything is perfect with slate. As with many stones, if not properly taken care of, colors will fade and lose their brightness, as you can see in the images of a slate backsplash below.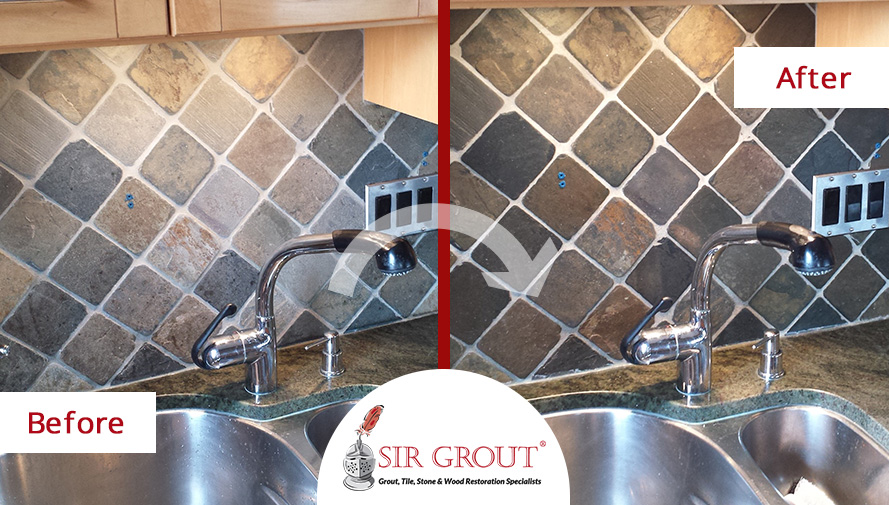 Besides, stains on slate won't easily go away with regular cleaning. Those horrible marks added to the normal wear and tear of the stone will cause a slate that's not worth looking at. It will be dull and dingy, and that beautiful slate that you once fell in love with will be nowhere to be found. Once damaged, it's not over! To revive its color and bring back its beauty, a
slate cleaning and sealing
can do the job.
Slate is an elegant and durable hard surface used for countertops, floors, and other surfaces. Over time, dirt and grime can accumulate on your slate surface, giving it a dull and faded look. All types of slate are porous and will absorb moisture and stains. Therefore, it is important to have your slate sealed to prevent staining and future damage. But how do you know if your slate needs to be sealed? There is an easy test that you can do yourself to assess that. Pour a bit of water on the surface and let it stand for 10 minutes. If the water leaves a dark area, then it needs to be sealed. If it doesn't change its color, your slate is fine and doesn't need sealing.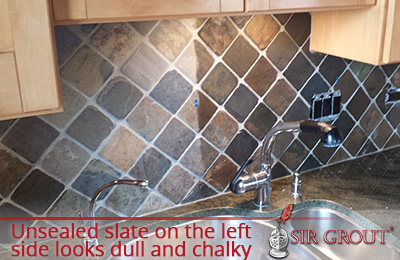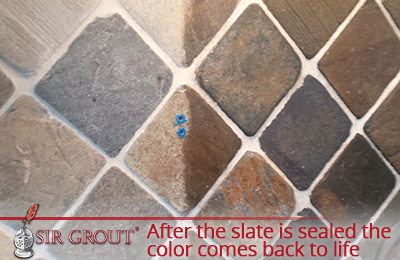 Slate tends to require special treatment and maintenance beyond regular cleaning. If dirt has built up, we recommend the use of pH-neutral and soap-less cleaners. Neutral pH cleaners guarantee that acidic or base substances won't damage the slate, while soap-less cleaners make sure that no film is left behind and that no dirt and grime will be attracted. To ensure that dirt and grime don't build up again, it's recommendable to clean slate at least two to three times a month. That way you can rest assured that your slate will remain looking as astonishing as the day it was installed!
To prevent stain damage on stone, it is recommended to treat the stone with a sealing and/or
color enhancement service
. Slate sealants will soak into the stone, revitalizing the color to give it a deep, rich tone. This will also provide a stain-resistant finish to your stone and help it resist scratching from dirt and debris, making it easier to clean.
Does your slate floor look dull and discolored? If this is your case, a slate cleaning, sealing, and enhancement job may do the trick and revive the colors of your once-beautiful slate surface. Call us at
(866) 476-8863
or fill out the form below to contact Sir Grout for a free evaluation today and enjoy an unparalleled service! You can also find us on
Facebook at Sir Grout
, and follow us on
Twitter @SirGrout
and
Instagram @Sir Grout
. If you want to keep reading wonderful tips to care for your hard surfaces, don't forget to
subscribe to our newsletter
.