Slippery Floors Are a Menace. Learn How to Safely Reduce the Risks
October 05, 2016
When it comes to tile or stone flooring, everyone goes with a smooth and shiny finish because of its amazing appearance. Despite their beauty, smooth and shiny floors can become a menace due to their slippery nature when wet or polished. Each year, more than one million people experience a significant slip or fall. They are the most common reason for emergency room visits, and a slip and fall injury can represent over $28,000 in medical bills, medicine, and physical therapy. Not to mention that people who constantly slip or fall worry about suffering an accident when walking on slippery surfaces. If you have slippery surfaces, you must take action to reduce the risk of an accident for you or one of your family members. Does this mean you'll have to change your flooring? Fortunately, Sir Grout has a
cost-effective solution
that could tackle the problem without making aesthetic changes to your floor.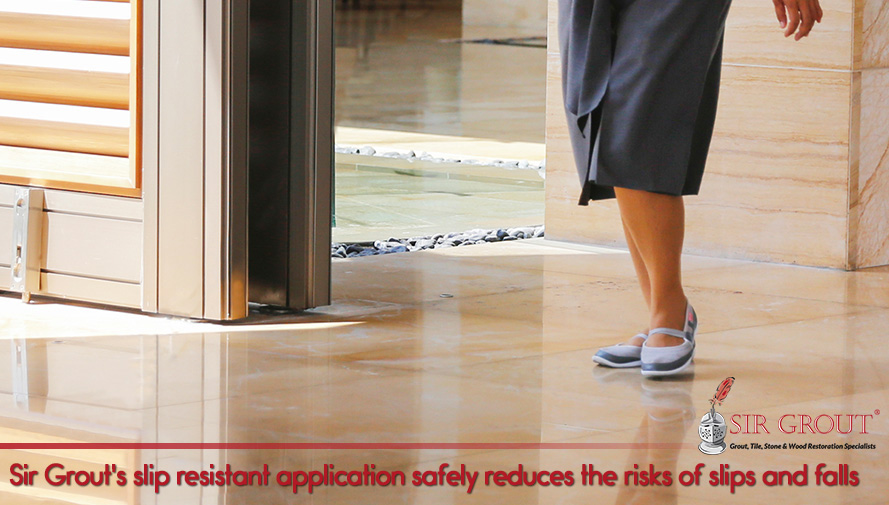 Slips and falls are the second most common cause of accidental deaths and disability. They are not only a hazard to your home, but also a work hazard and a manager or employer's worst nightmare. They also represent temporary loss in the workforce, workers' compensation, and possible lawsuits from customers, which in the end may involve large amounts of money.
To help prevent tragic accidents at home or in workplaces, there are some recommendations to reduce the risks:
Common Ways to Deal with Slippery Surfaces
Keep walkways free of clutter.
Secure mats, rugs, and carpets with tape.
Leave file cabinets and storage drawers closed.
Cover cables or keep them in a cable conduit.
Keep all areas well-lit.
Keep floor clean and free of dust.
Replace your floors.
While these measures will help you reduce the chances of trips and falls on slippery surfaces, some of them may be too extreme and may be solutions that not everybody would like to adopt, especially if it means changing your floor or using mats.
Sir Grout's Solution to Slippery Floors
If you don't want to change your floor or clutter your space with rugs and warnings signs, Sir Grout has the perfect solution for your slippery floor.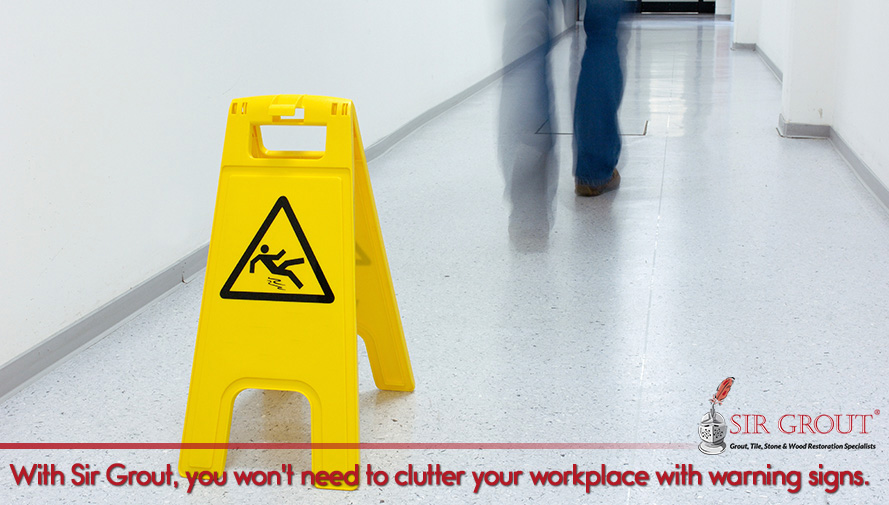 At Sir Grout, we have our Slip Armor technology – a slip-resistant solution that can be applied to mineral-based surfaces and that works at a microscopic level, undetectable to the naked eye. Our Slip Resistant Application works by expanding the surface's pores and creating microscopic suction cups, adding better traction to the surface. As a result, your tile or natural stone floor will be slip-resistant without harming its finish or changing its aesthetics.
Benefits of Slip Armor
Undetectable to the naked eye.
Adds better traction to the surface.
Doesn't change the tile or stone's aesthetics.
Helps reduce the risk of slips and falls.
Doesn't harm the floor's finish.
You, your family, your money, and even your work will be protected.
When a surface becomes wet or slippery because it is very polished, you're set! Slip Armor will help reduce the risk of slips and falls. Call us at
(866) 476-8863
or fill out the form below to contact Sir Grout for a free evaluation today and enjoy an unparalleled service! You can also find us on
Facebook at Sir Grout
, and follow us on
Twitter @SirGrout
and
Instagram @SirGrout
. If you want to keep reading wonderful tips to care for your hard surfaces, don't forget to
subscribe to our newsletter
.
Sources:
National Safety Council
U.S. Bureau of Labor Statistics