Sir Grout Joined America's Relief Efforts to Help Those Impacted by Harvey and Irma in Texas and Florida
Sir Grout made a donation to help the communities of Florida and Texas get back on their feet after Hurricanes Harvey and Irma.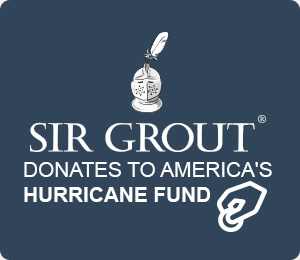 Cumming, GA – (PRWEB – 09/27/2017 6:00 AM EST) – Sir Grout made a donation to help those affected by hurricanes Irma and Harvey in Florida and Texas. The renowned hard surface restoration company wanted to step forward and take action to help the communities that were affected by these powerful storms.
"This hurricane season has brought devastation to our nation, but we've been in this kind of situation before and we always know how to stand up again. When these disasters happen, the American people unite and the country shows its strength. We're sure that our efforts and donations will contribute to helping torn communities get back on their feet," said Jeff Gill, Sir Grout's co-founder.
Another co-founder and franchisee, Tom Lindberg, also shared his thoughts on the matter. "As a franchisee, I'm proud to be part of this corporation that supports all members in good and bad times. This donation shows that we stand with those who were directly affected by the hurricanes, which includes our franchises in Houston and Florida. I put myself in their shoes; having your business and job at risk is not an easy thing to face. We hope more people continue to aid in this cause and, with hard work and dedication, both communities are restored soon."
These notorious hurricanes have seriously affected both Texas and Florida. There was intense flooding, power outages, and debris everywhere. Rebuilding both areas is an immense task, but the hearts of many Americans have joined aid efforts, and we know it is possible.
Sir Grout has been in the hard-surface restoration industry for over 13 years, offering excellence and dedication in every job it performs. This corporation invites its fellow citizens to contribute to this cause. For those interested in helping, here's a list of local charities:
Houston:
Florida:
miamifoundation.org: If you want to donate money for supplies.
jewishmiami.org: An organization dedicated to assessing the needs of local residents and institutions in order to mobilize volunteers and other resources where they are needed most.
unitedwaymiami.org: If you want to donate or volunteer to help.
To learn more about Sir Grout, you can visit its website at
www.sirgrout.com
or call
(866) 476-8863
.