If Your Shower's Grout Lines Are Cracked, You Are in Need of a Grout Sealing Service
May 10, 2016
Grout is essential for filling gaps, sealing joints, and securing tiles to their base. It also comes in different varieties such as sanded and unsanded grout. However, it is a very porous material, which makes it highly absorbent. This can cause staining and other serious problems, so if the grout is not properly sealed after drying, it is possible that you'll have the common floor issue that a recent client of ours experienced.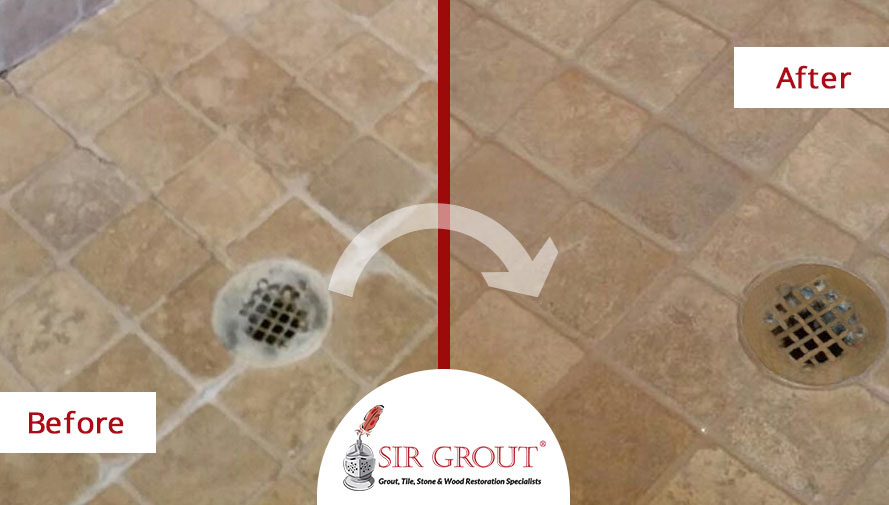 This homeowner had struggled with several grout problems before he found out about Sir Grout. His lovely stone shower had become a shadow of its former self – the shower floor's grout was beginning to decay, crack, and, in this case, mineral deposits began accumulating. To make matters worse, the wall joint on the right corner was cracked as well. This was an extremely distressing problem for the homeowner, since he knew that the cracks in the wall joints could lead to water seeping into the walls and that the deteriorating grout could ruin his stone floor for good. Thankfully, he called Sir Grout for a professional
grout sealing
service before it was too late.
This homeowner's problems are actually very common floor issues that our technicians see on a national scale. Grout has inherent weaknesses that can be dealt with by taking the proper precautions. If grout is not taken care of when it is first installed, and if it is not properly maintained thereafter, these weaknesses can cause issues such as loose or cracked grout, discoloration, and staining. In the case of loose or cracked grout, the main culprit is deflection in the substrate, which means that the material beneath the tile loosens, causing the grout lines to crack. Other causes include grout made with too much polymer or water additive – which can result in a weak grout structure – as well as packing grout into the gaps incorrectly. Issues like discoloration and staining occur as a result of the porous nature of cement-based grout, which means that it can easily absorb moisture and dirt.
As our name suggests, restoring grout is our primary specialty. The technicians at Sir Grout knew that the issues our customer was dealing with could be solved by caulking the cracked joints and applying ColorSeal, a filler that comes in many colors and is applied to the top of the grout. ColorSeal recolors and seals grout lines, making them resistant to stains, water, mold and mildew. Remember that grout is a cement-based product, which makes it porous – by applying a grout sealer, you will be strengthening the grout and preventing water and grime from seeping into its pores. Some tips for grout maintenance include cleaning your floor at least once a week with a pH-neutral cleaner, staying away from acid- or ammonia-based cleaning agents that can cause discoloration, and changing mop water when it becomes dirty. Another helpful tip is to maintain well-ventilated shower stalls, as this prevents stain-causing mildew and other fungi.
Once the grout is dry and has had enough time to cure completely, using a sealer is the best thing you can do to protect it. However, there are some types of grout that do not need to be sealed, such as epoxy-based grout. Grout sealing has many benefits: applying a high quality sealer will ensure that the appearance of stains is reduced, and it will also prevent moisture from causing mold and mildew to penetrate the grout pores. This will save you from expensive renovations down the road.
Is your grout cracked, discolored or stained? Then it might be time for a professional grout sealing service. If you have any questions, you can contact us by calling
(866) 476-8863
or visiting the go to
locations
section to find a Sir Grout near you! For more grout care and maintenance tips, remember to follow us on
Facebook SirGrout
,
Twitter @SirGrout
, and
Instagram @SirGrout
.