Caring for Travertine
September 22, 2014
Sir Grout is a leading innovator in the "hard surface" care industry and makes any stone look as beautiful as new. Travertine is a limestone that owes its beauty to its unique porous veins and wide variety of natural colors. It's easily stained and etched by acids but can last forever when cared for properly. Try these useful tips to help clean and protect your precious travertine: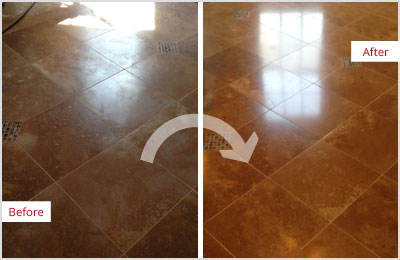 Test and seal the stone
Some tiles come pre-sealed or you may need to reseal your travertine flooring from time to time. To determine if your tiles need to be sealed, apply a small amount of water to them. If the water is absorbed by the tile and it darkens, then it needs to be sealed.
Wipe spills immediately
Since travertine is porous, it can be stained easily. Clean spills quickly with hot water and a neutral stone cleaning product.
Dust mop travertine floor
Clean your stone with a clean, non-treated dust mop regularly. Use a wet mop with hot water and a stone cleaning agent weekly.
Protect and cover the stone
Place a doormat in high traffic areas like entryways or scatter rugs to avoid bringing in dirt and other elements that can ruin your travertine.
Remove stains
To remove stains, you should first identify the cause and then apply a poultice combining an absorbent material with a chemical to form a thick paste, which you spread over the affected area and allow standing for at least 48 hours.
Clean periodically
Don't forget to use a good pH-neutral soapless cleaner for cleaning periodically.
If taking care of your travertine surfaces is not one of your strongest skills, Sir Grout does provide this service. To find a Sir Grout near you, go to our
locations
page and get a free quote today.