Care Tips for Stone Countertops
May 24, 2023
Stone has been used for decades in homes. Some sources suggest that granite was used as far back as ancient Egypt and was known to grace expensive homes in the 1920s.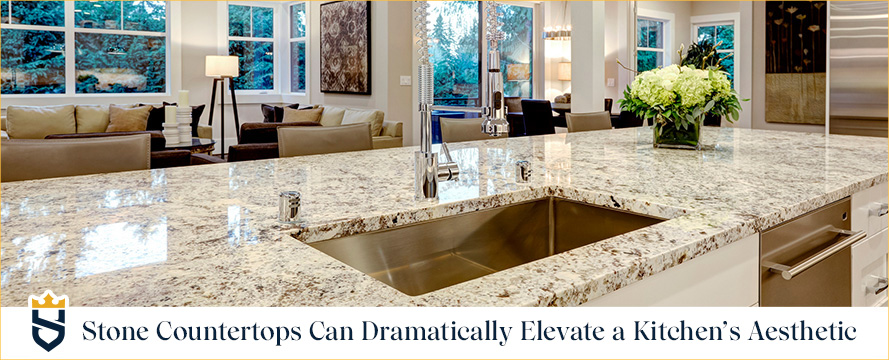 It took on a more mainstream position in the 1970s and has remained popular since then, along with a variety of other types of stone.
Regardless of the history, we can all pretty much agree that stone countertops can elevate the appearance of a kitchen dramatically, but for all their beauty and ruggedness, stone countertops need to be cared for. Here are some of our care tips for stone countertops to help you get the most out of yours.
Popular Types of Stone for Countertops
Granite is the most popular choice for stone countertops today. Granite has a nice balance between good looks and durability. Marble is another choice for countertops, known for its well-defined vein features and a range of colors.
Travertine is a natural stone similar to granite and highly-prized for its textures and beauty. It is another popular choice for countertops. Quartz, limestone, soapstone, and onyx can also be used. Each of these types of stones has varying degrees of popularity, affordability, and their own characteristics. There are other choices for stone countertops as well, including manmade options.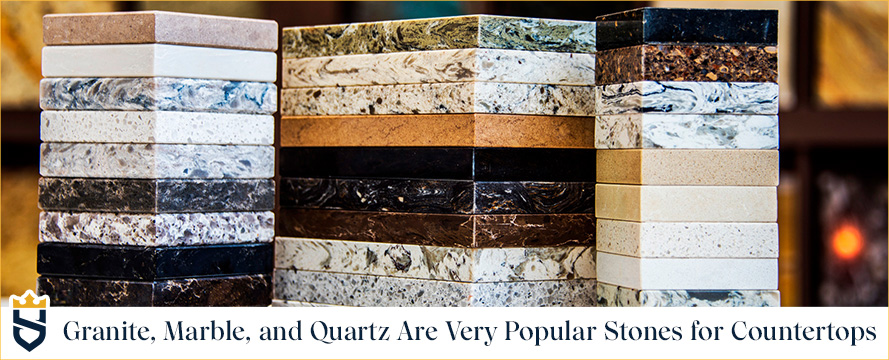 Regardless of which type of stone you choose for your countertops, caring for them properly will help maintain their beauty and increase their lifespan. Following these guidelines can help you get the most from your stone countertops.
Stone Countertop Care Tips
Seal Your Countertops – This one tip can go a long way to making sure your stone countertops are protected. You should make sure that they are sealed when installed.

If you purchase a house and don't know if the countertops have been sealed, you can test to see if the countertops are in need of sealing with a simple water test. Pour a few droplets of water onto your counter in different areas. If the stone darkens, the water is being absorbed. This means it isn't sealed or it is in need of being sealed again.

Even if you have your natural stone countertops sealed, it is a good idea to periodically do this test to see if re-sealing is necessary.


Stone-Safe Cleaning Products – Always use pH-neutral products that are made for cleaning natural stone. Products that are made for stone cleaning will not be acidic. When you use acidic products, you risk damaging them. Most natural stone contains some level of calcite, which reacts negatively even to low levels of acid.



Avoid Hot Pots and Pans - Always use a trivet or some other barrier when setting hot pans on your counter. The excessive heat can damage the natural stone, causing cracks and other imperfections that can trap dirt. Also, don't slam heavy objects down on your stone countertops for the same reason.


Wipe Away Spills – Always wipe away spills of any kind immediately. Grape juice, wine, and other liquids that are acidic can have the same effect as acidic cleaners. These liquids can also seep into your countertops, particularly if they aren't sealed, and cause ugly stains that can be difficult to remove. Wiping spills away can help keep your stone countertops in good shape.



Use Hard Surface Experts When Possible – If you need to have your countertops sealed, repaired, or restored, it's best to seek the help of professionals unless you know what you're doing.

Hiring a professional you can trust can also save you money. Many people immediately assume they need to replace stone countertops that are not in the best shape. This isn't true. A professional can often help you find a better alternative. You'd be surprised what a good hard surface restoration company can accomplish.
Sir Grout is respected throughout the industry as hard surface specialists. We have been serving commercial and residential customers for many years. Our customers keep coming back to us because they know we have the best customer care and the finest hard surface experts you can get anywhere.
Our team can take a look at your countertop and tell you exactly what needs to be done to restore it to its former beauty. In most cases, the job that needs to be done won't be as extensive as you might have believed it would be, which means you'll be able to affordably renew your countertop.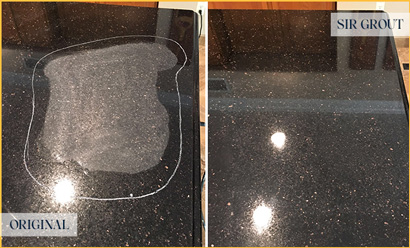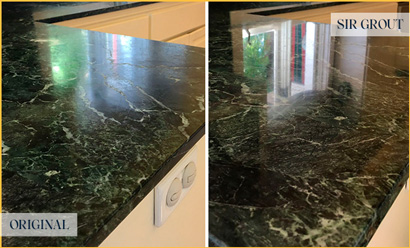 Sir Grout offers stone cleaning and sealing, as well as full stone restoration. We also offer high-durability coatings, grout recoloring and sealing, and more.
Our hard surface experts are the best in the business and able to provide you with exceptional professional service you can rely on to make all your hard surfaces be the best they can possibly be.
There's no job that is too small or too big for us. We can help with new installations or help you bring new life to old installations. There's no material we can't work with, including natural stone, tiles, grout lines, caulking, and much more.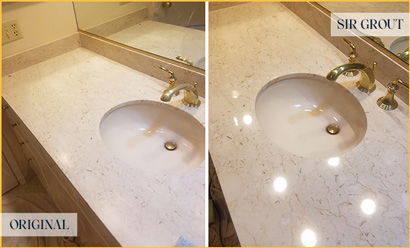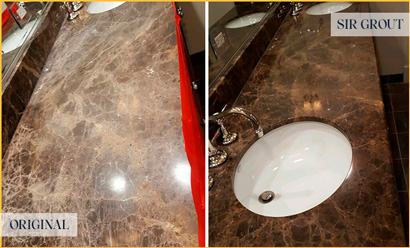 If your natural stone countertops are starting to look bad, call us at
(866) 476-8863
to find a Sir Grout near you. We have Sir Grout
locations
throughout the country ready to help you bring your stone countertops back to life. We can schedule an appointment that's convenient for you.
Our experts will be happy to follow social distancing guidelines when they arrive at your home or business. If you've been wanting to revive your old stone countertops or any other hard surface in your home or business, Sir Grout is here and ready to help. Call us today for a free quote. Let us help you make your home or business look appealing once again.