Sir Grout's Stone Cleaning and Sealing Service Can Prolong the Life of Your Shower
March 29, 2016
Stone is beautiful - building stones like marble, travertine, and slate beautify many homes, evoking a feel of grandeur and luxury. Decorative stone does not just raise the aesthetic value of a home, it increases the actual real estate value. Marble, travertine, and slate countertops, bathrooms, showers, and floors attract home buyers and eager real estate agents.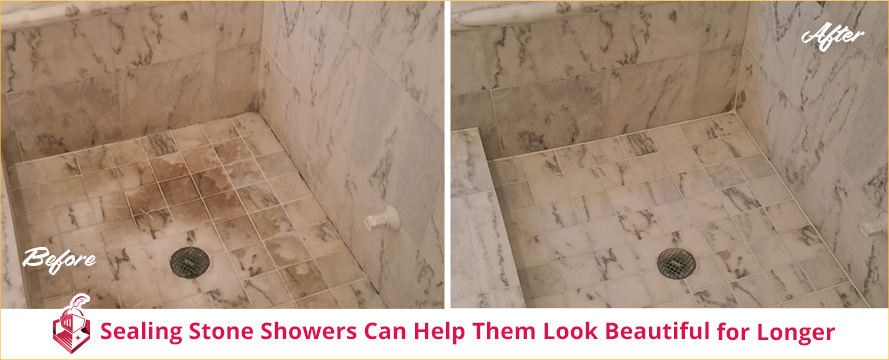 This Sir Grout customer has enjoyed years of use from his brown marble shower. This luxurious walk-in shower, lined with marble tile, is the dream of many homeowners and is truly a luxury to behold. Unfortunately, as the years went on, this beautiful marble aged and discolored. The large dark spot featured in the photo was not there when the shower was installed - years of moisture, soap scum, and improper cleaning caused this unsightly staining. This discoloration can only be mitigated with a professional
stone cleaning and sealing
- no amount of cleaning products can undo this damage, and if anything, they can make things even worse! In order to avoid a similar situation, or at least put off needing a stone cleaning and sealing service, it is important to first understand what marble is, and how it functions.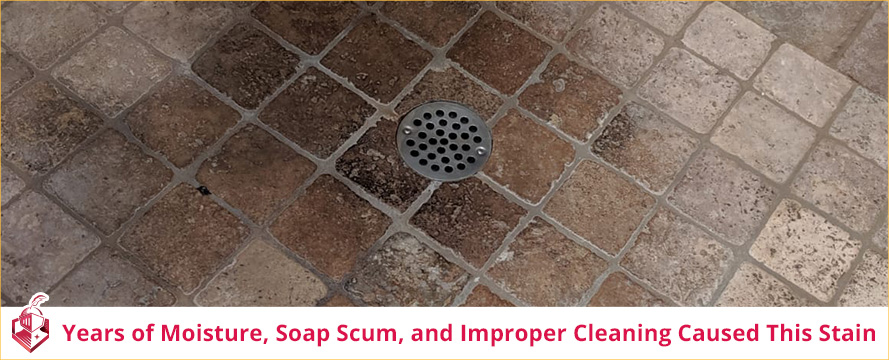 Marble is a relatively soft, decorative stone mined pretty much all over the world. Although it has been used extensively as a building material - India's Taj Mahal is built entirely out of marble - nowadays, its high value, fragility, and high maintenance nature makes it ideal for decorative applications more so than full building applications. Pure marble is always white in color. The purest marble is mined in areas around the Mediterranean, especially Greece. Although pure marble is white, there are many colors of marble, like the brown one in the photo of our customer's marble shower. The various colors - blue, green, black, brown, and red happen because of imperfections in the marble. That is not to say all marble that is not white is somehow inferior or imperfect. Imperfections simply mean other stones and minerals mixed in with the marble during its formation, giving colored marble its intricate and very desirable patterns and colors.
Marble is also a very porous stone. Although it appears smooth to the naked eye, the stone's surface is actually full of tiny pores. Basically, it is like a sponge with microscopic spaces for water and dirt to seep in. Once the moisture or dirt permeate through the pores and dry there, there is very little to be done to get that dirt or moisture out -- unlike a sponge, you cannot exactly squeeze the marble to get the stuff out. What remains is an unfortunate and unsightly stain that cannot be removed with simple cleaning products.
Several precautions are widely recommended when it comes to dealing with and cleaning marble. First and foremost, if any spill or dirt is to occur, wipe the spill or dirt as soon as possible with a non-abrasive cloth or paper towel. Since the pores are microscopic, it takes a bit of time for the moisture or dirt to get in the pores. If you take care of the dirt or spill immediately, the marble should stay its original color.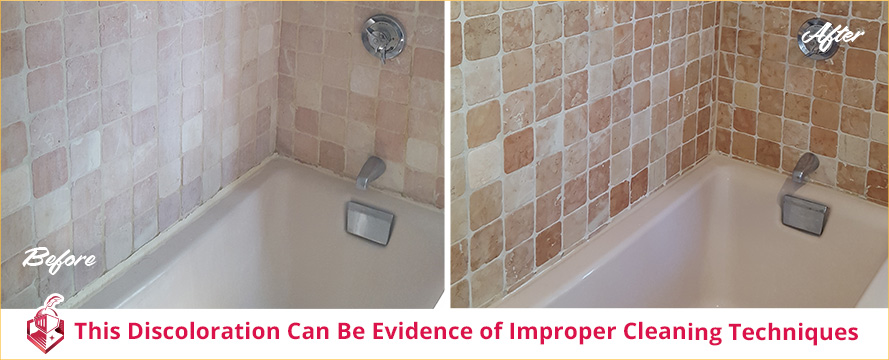 Obviously, in the case of a shower lined with marble tiles, wiping moisture, mildew, and dirt as soon as it happens to settle upon the marble is pretty much impossible. For marble that is perpetually exposed to moisture, mildew, and dirt, professional stone cleaning and sealing can undo the years of damage due to moisture or improper cleaning techniques.
In the case of these customers' showers, the discoloration can be evidence of improper cleaning techniques and products. Highly acidic or abrasive cleaning chemicals can damage the delicate marble and strip away the surface, leaving even more areas for moisture and dirt to get into. As far as mold and mildew, keeping the shower door closed creates a very warm, dark, and humid environment inside the shower. When the atmospheric moisture is mixed with leftover soap scum and residue, the environment exacerbates the growth of mold, mildew, and bacteria.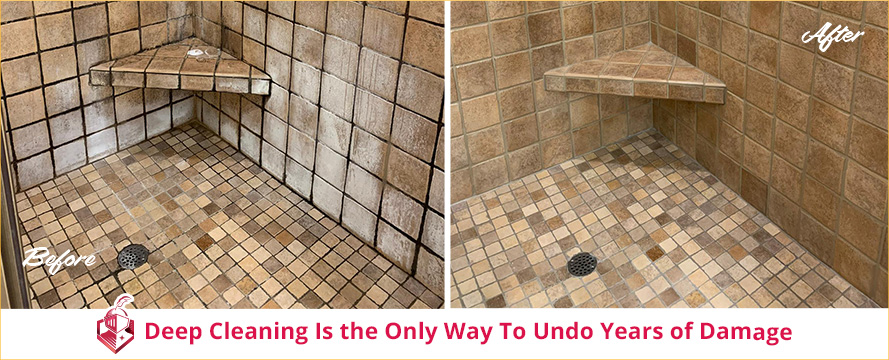 All this damage may be undone via a professional stone cleaning and sealing from Sir Grout. Cleaning the stone with a proprietary mix of marble-friendly chemicals and devices can undo the years of damage from moisture and mildew. Sealing the stone can cover up all those microscopic pores so that less dirt and moisture can seep through and ruin the beauty of your marble!
Does your stone need a cleaning and sealing? If you can't get it clean, it probably does. Give us a call at
(866) 476-8863
to schedule a free evaluation today!
If you found this article helpful then let us know in the comments section below. Likewise, feel free to share it using the share options below. Want us to cover another topic of your interest pertaining to hard surface restoration? If so, then like us and follow us on social media, and post to any of our social media profiles the topic you'd like us to discuss:
Facebook Sir Grout
,
Instagram @sirgrout
, and
Twitter @SirGrout
.
Categories:
Stone
,
Marble
,
Travertine
,
Slate
,
Cleaning
,
Sealing
,
Color Enhancement
,
Floors
,
Countertops
,
Vanity Tops
,
Showers
,
Bathrooms