Stone Sealing: The Perfect Solution to Prevent Winter Weather from Damaging Your Outdoor Surfaces
January 16, 2020
With winter having settled in, home and businesses are more exposed to the season's harsh weather.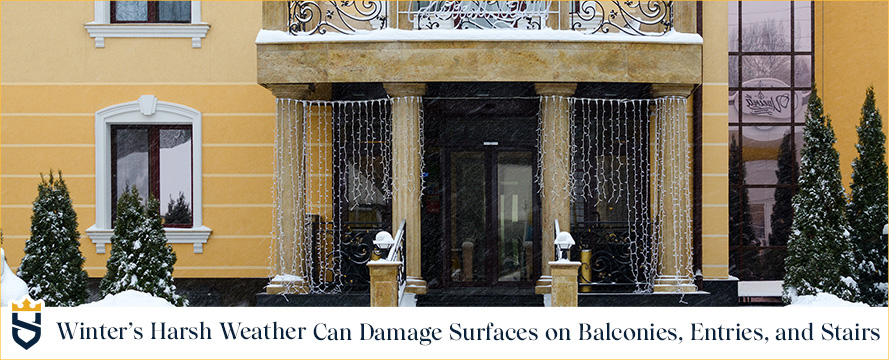 While for some people these cold months mean hot cocoa, skiing, and snowman building, others just worry about driveways covered in snow, black ice, frozen roads, and the possible damage that the season's severe weather is causing to their property, especially to their precious outdoor stone surfaces. However, most people are unaware of what they can or cannot do to protect their outdoor hard surfaces during the season.
Winter weather affects all natural stones to a certain degree. In general, winter in the United States averages about 33.2 °F, just above the freezing level. Although ceramic tiles hold up very well outdoors during the winter, natural stones like marble, travertine, or limestone need extra care to survive the season without suffering severe damage.
This fact should be taken into consideration when choosing which kind of flooring your outdoor spaces will have so you can take the right precautions and hire the right
stone cleaning and sealing services
to protect it throughout the season.
Possible threats during winter and how to prevent them
Natural stone floors can crack or chip when water from melting snow becomes trapped in any crack or joint and then freezes again as temperatures drop; this effect is called freeze-thaw weathering or frost. The effect of the freeze-thaw cycle on an outdoor surface will depend on the porosity and the level of absorption of each stone.
Some granites, for example, have a porosity of just 1%, while some sandstones' porosity is more than 20%. The higher the porosity of the stone, the higher the probability of freeze-thaw damage to your floor.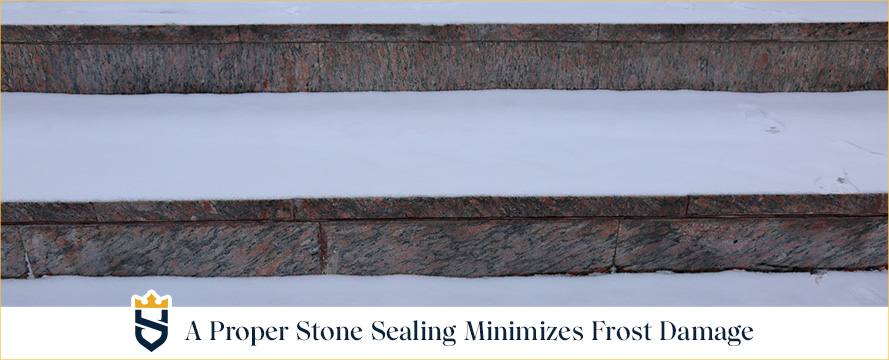 Even though some surfaces are more vulnerable than others, the truth is that all natural stones are somewhat porous; therefore, they are vulnerable to damage from ice during winter. Fortunately, there is a great solution to prevent this problem: stone sealing.
Sealing is the best way to protect your stone. With a quality sealer, you can keep water from seeping into the surface and causing long term damage. At Sir Grout, we use our proprietary, water-based sealer and protectant called Tile Armor, which efficiently seals and shields any surface and provides long-lasting results.
Chemicals commonly used to melt snow and ice during the season can also damage a stone surface. Some snow or ice melting products contain salt, which is corrosive and will slowly break down concrete or any natural stone. Moreover, deicing salts can cause discoloration on your tiles or severe salt stains that can only be removed with professional stone restoration services.
Experts recommend the use of calcium magnesium acetate (CMA) deicers since these are safer for your stone and more environmentally friendly too. Acidic-based cleaners should be avoided; they can deteriorate stones that are vulnerable to acids like marble, travertine, limestone, or onyx.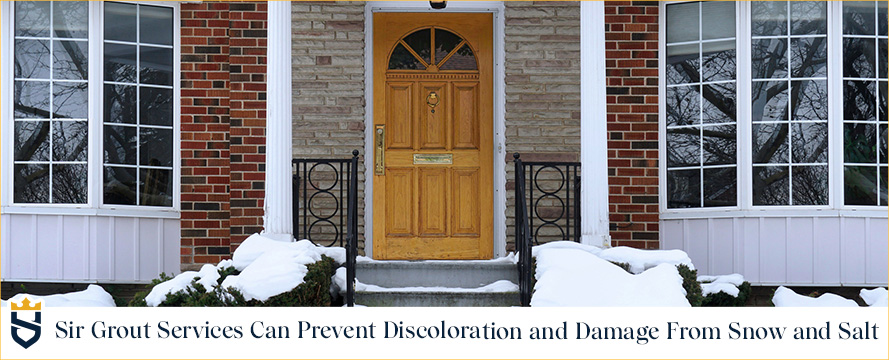 Moreover, some natural stone surfaces have low levels of friction and can become very slippery during the winter season due to melted snow or frozen water, so much so that anti-slip protection has become an important factor to consider when the season starts, especially for those surfaces that are already very slippery, like polished marble or travertine.
It's never too late to take the necessary precautions and reduce the chances of accidents at home by placing doormats, rugs, or carpets near the entrances of your home so you can dry your shoes, keeping all areas well-lit – both indoors and outdoors – for proper visibility, and maintaining your surfaces dry and ice-free.
For additional safety, you can make your floor slip-resistant by using a quality anti-slip product. At Sir Grout, we use our proprietary
Slip Armor technology
, a product that improves the traction of any surface without damaging its appearance; this product works at a microscopic level, so it's undetectable to the naked eye.
Protective stone care is essential to prevent costly repairs and preserve that beautiful flagstone driveway, gorgeous granite walkway, or any other type of outdoor stone surface you may have. Nevertheless, if you think that your stone floor may need some freshening up by the end of the winter, fear not!
You can bring your natural stone surfaces back to life with
residential stone cleaning and color enhancement
services to highlight and enhance the beauty of your floor.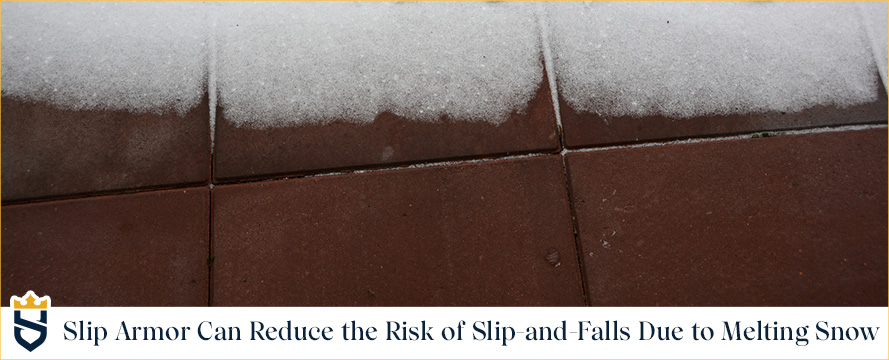 Avoid finding yourself unprepared next winter! Look for professionals who can protect your stone surfaces before and after the season. At Sir Grout, we offer the best stone cleaning and sealing services in more than 40 locations across the United States.
Click on the "Schedule a Free Quote" button on this page or call
(866) 476-8863
to find the franchise closest to you and get more information about our services and products. To receive more maintenance tips for your hard surfaces, subscribe to our
newsletter
.