The Best Way To Make the Soap Scum in Your Bathroom Disappear
October 20, 2016
One of the common problems in bathrooms is the development of soap scum. It gives your bathroom an unaesthetic look, and if you do not clean it immediately, it will be difficult to remove. Also, the more it builds up, the grosser it gets. Soap scum becomes a dirt magnet and changes the color of the grout lines, making them look unappealing. Detecting soap scum and eliminating it from your bathroom is not an easy task and may require a tile or
stone cleaning and sealing service
.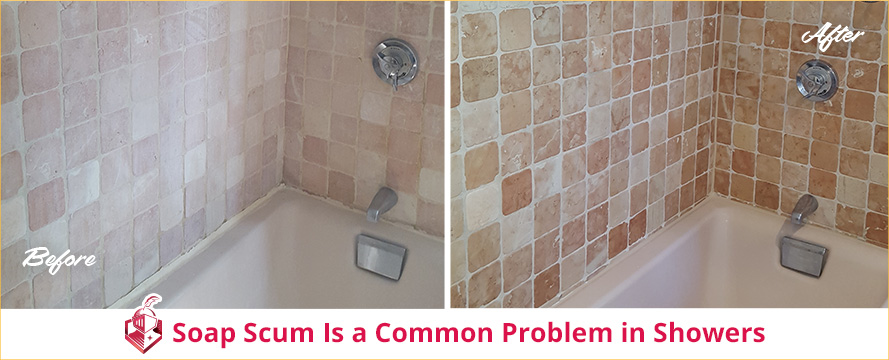 How to identify soap scum
We have all seen how horrible the mix of hard water and soap scum looks. Soap creates a tough film on shower's surfaces. When drops of hard water dry out, they leave minerals behind. Mineral deposits and dirt build up on soap scum, which acts like a magnet and attracts them. The result? Your beautiful pristine shower now looks dingy, lackluster, and uninviting.
To identify soap scum, just look for white and foggy areas on your tile or stone. If it has come into contact with dirt, soap scum will have a brownish color. To increase the gross factor, reports suggest that soap scum creates a rich microbial biofilm that contains pathogenic bacteria.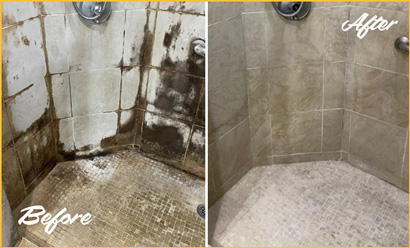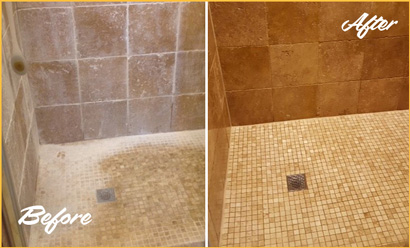 How to remove soap film from showers with a cleaning and sealing service
You may have read thousands of DIY recipes to get rid of soap scum in your bathroom. While they may help you remove soap scum, you may have to tackle other problems as well. Most of these recipes recommend the use of acidic or alkaline cleaners which will remove soap scum but will also damage your grout over time. However, an acid based cleaner is needed to remove soap scum if it accumulates but should be used by professionals.
In the video above, you can see how Sir Grout eliminates soap scum in bathrooms. Sir Grout will first pre-treat your stone with a special soap scum remover along with a pH-neutral cleaner, using a state-of-the-art soft brush vertical scrubbing system, specially designed to clean delicate stones like slate. Sir Grout's specially formulated cleaner helps remove soap scum easily after it is applied. The greatest feature of Sir Grout's special cleaner is that it is nontoxic and safe to use around children and pets.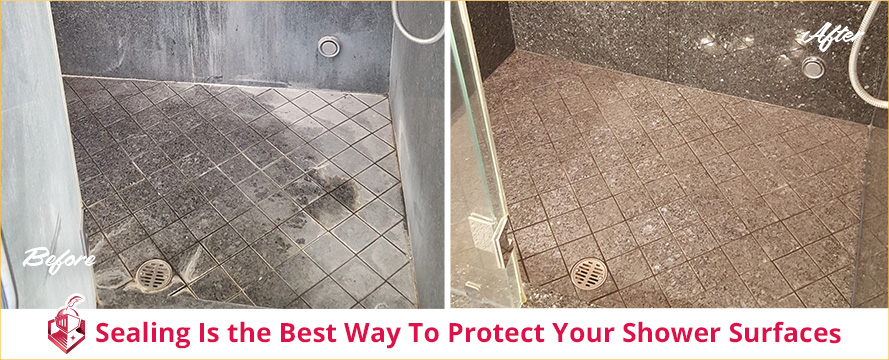 To protect your bathroom's stone or tile surface and prevent further damage, we will proceed to apply our proprietary, water-borne, polymer sealer. This sealer will provide maximum protection to your shower's surfaces for a long time.
Maintenance
There is nothing like a little prevention to keep problems at bay. The best way to remove soap scum from the shower is to prevent it from developing in the first place. With just a few easy-to-follow tips, you can forget about seeing soap scum in your bathroom again!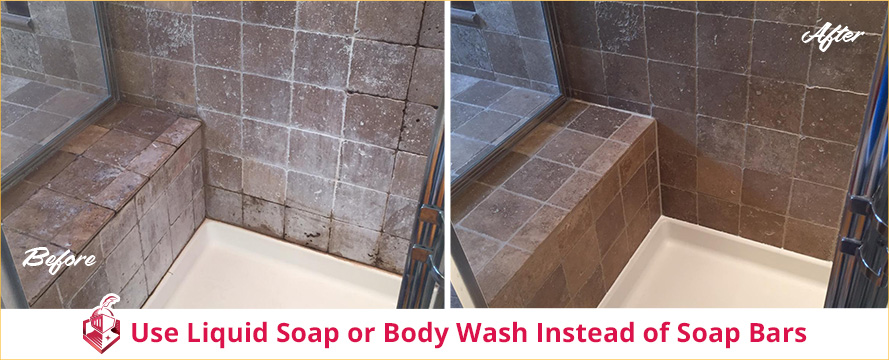 One of the culprits behind soap scum buildup is your soap bar, as it leaves residues. Instead of using soap bars, change to liquid soap or body wash. Both your body and shower will appreciate it.
Another thing you can do is keep a squeegee in your bathroom. Use it to dry your shower, bathtub, and sink after using them. It will only take a couple of minutes of your precious time and will prevent serious problems.
If your shower looks anything like the ones above, or if it's dingy, lackluster, and un-inviting, don't despair. Call us at
(866) 476-8863
or fill out the form below to contact Sir Grout for a free evaluation today and enjoy an unparalleled service! If you want to keep reading wonderful tips to care for your hard surfaces, don't forget to subscribe to our
newsletter
.
If you found this article helpful then let us know in the comments section below. Likewise, feel free to share it using the share options below. Want us to cover another topic of your interest pertaining to hard surface restoration? If so, then like us and follow us on social media, and post to any of our social media profiles the topic you'd like us to discuss:
Facebook Sir Grout
,
Instagram @sirgrout
, and
Twitter @SirGrout
.