Ask Sir Grout: How to Clean Tile and Grout with Soap Film Buildup
October 05, 2015
After attempting to perform routine cleaning on your tile floors, you may ask yourself, "Why do my floors still look dirty?" This week, Lisa S. from Fairfield, Connecticut, sent us a picture of her home. She couldn't figure out what was wrong with her floor.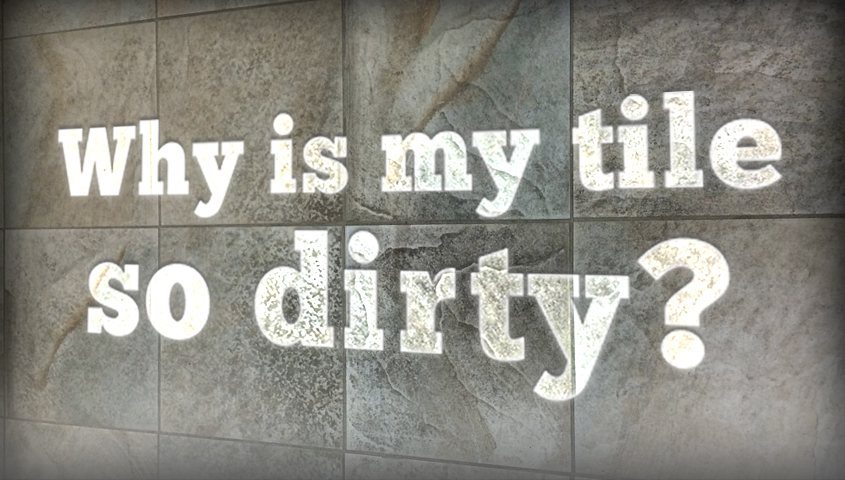 Notice the patchiness and discoloration in the image above. The experts at Sir Grout explained why the tile and grout looked so discolored, and gave Lisa some tips on how to fix and avoid this problem in the future. The persistent dirt you see in the picture really is dirt - dirt trapped in soap, of all things! Soap scum had built up on her tile, and become a cesspool for dirt, mildew, and bacteria trapped in the microscopic pores in the tile and grout. By using a soap-based cleaner, Lisa had accidentally created a dirty mess where she'd intended to leave a clean floor. Luckily for her, the damage doesn't look permanent, but if this problem continued, it could have seriously damaged the floor!
Does your tile look dirty, no matter how much you clean it? Discover some
tile and grout cleaning
tips below, and also tricks to remove that nasty soap film that can turn your beautiful tiles in to a dark, discolored mess. We'll also cover the right techniques and cleaners to maintain a strong, shining expanse of tile and grout in your home. Whether you have ceramic or porcelain tile flooring installed in your home, both types of tiles are a great surface to have because they are typically easy to maintain and sometimes require very little effort to keep clean. However, if cleaned incorrectly, it will not take long for your tile floors to look old and dirty again.
Porcelain tiles
Porcelain tiles typically are a popular choice for flooring because they are more durable, less porous, and denser than ceramic tiles. However, even though certain types of porcelain tiles are virtually non-porous, such as polished porcelain, they can still contain microscopic bubbles on their surface. These tiny bubbles can open up during the polishing process. Once this happens, tiny cups form on the surface of the tile that can fill with liquid. Polished porcelain can then appear to be stained: regular cleaning will not be able to remove the rancid, dirty liquid out of the cups.
Ceramic tiles
Certain types of ceramic tiles have a layer of glaze added to them to reduce porousness and help protect against dirt. Ceramic tiles with a matte finish or textured surface can, of course, collect dirt on its surfaces more easily.
Grout
What about other important components involved with your tile, like the grout lines? If you use the right cleaning products, you might be able to keep the surface of your tiles looking clean. The grout lines, however, are porous, so they can absorb dirt and soapy water after you mop. This means that you leave behind all the dirt and soap scum after the water evaporates. The result of all this cleaning and dirt left in the pores of your grout is a nasty optical illusion. When your grout has an inconsistent color, it can cause the whole floor to look uneven, discolored, and old.
You can attempt to scrub the dirt and soap residue out of your grout, but the grout lines will often still appear patchy. As more soap residue absorbs into the grout lines, the more your grout will be discolored. Added soap will also cause the grout to become more absorbent, which increases the frequency of it becoming dirty again. Unless you seal your grout, you won't be able to prevent this buildup, which can cause breakage, weakening, cracks and potential leaks.
Soap film on tiles
Cleaning your tiles incorrectly can actually ruin the aesthetic look of your floor. Soap scum on your tile can cause it to appear to have white spots or a film scattered over several tiles. This can be caused by using floor cleaners that are not designed for tiles such as the improper use of bleach, ammonia, and acid-based cleaners. The soap film appearance can also be caused by not rinsing your floors with clean water and not drying the surfaces thoroughly after mopping the floors with a detergent.
Don't use soap-based cleaners on tiles:
Soap-based cleaners absorb into the grout, causing it to become dirty again more quickly and promoting the growth of mildew and mold.
Soap-based cleaners leave a film, dulling the surface of your tile.
For tiles with polished and glazed finishes, acid-based cleaners can dull, scratch, or etch the surface of your tiles over time.
Both acid and ammonia-based cleaners can cause the grout lines to discolor and appear patchy.
What should I use on my tile and grout?
Instead, Sir Grout recommends cleaning your porcelain or ceramic tile surfaces with a
pH-neutral, soap-less floor cleaner
. It contains no rusting or corrosive properties - so it won't discolor or damage the surface of your tile and grout. PH-neutral, soap-less floor cleaners are also more environmentally friendly than other general cleaning products and contain lower levels of toxicity, so they are safer for the user.
How do I clean my dirty looking floor?
When performing routine cleaning, remove dust and dirt by vacuuming your floors frequently. Apply a pH-neutral, soap-less floor cleaner liberally to your tile, let it soak for about five minutes, then use clean water to mop up the area. Then use a dry cloth to dry the surface of your tiles thoroughly and remove dirty water residue that settles down in the conclave of the grout lines.
What if I don't want to clean my floors at all?
While it's always important to keep a clean home, there are ways to minimize the threat of grout and tile staining. One of the top ways we recommend to make cleaning a cinch is getting your grout recolored. We use ColorSeal, a proprietary sealer that will not only seal, but apply a consistent color to the top of your grout. It's a highly effective stain prevention method that will help you keep your floor clean and prevent the buildup of dirt and soap by eliminating those microscopic pores in your grout.
After a thorough cleaning, does your tile floor still look dirty and patchy? Fill out the form below for a free evaluation, today!
If you found this article helpful then let us know in the comments section below. Likewise, feel free to share it using the share options below. Want us to cover another topic of your interest pertaining to hard surface restoration? If so, then like us and follow us on social media, and post to any of our social media profiles the topic you'd like us to discuss:
Facebook Sir Grout
,
Instagram @sirgrout
, and
Twitter @SirGrout
.