Clean Your Tile and Grout Like You Mean It: The Truth about Regular Cleaning Products
July 02, 2020
Most household cleaning products are simply not designed for tile and grout. Having the wrong
residential tile and grout cleaning and sealing
routine can actually ruin the aesthetic appeal of your tiles. This can be caused by using cleaners that are not designed for tiles, such as bleach, ammonia, soap-based and acid-based cleaners.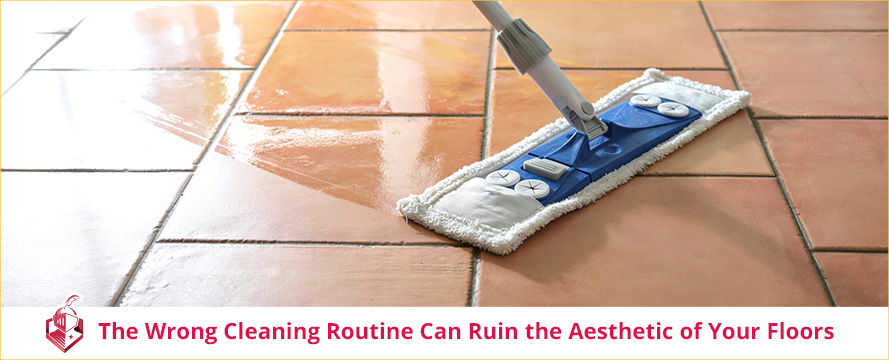 Routine cleaning and the use of these cleaning products will eventually catch up with your tile and grout, to the point that you will need professional help to make your floors look good again. Do you think you have been extra careful maintaining your tile and grout or stone floors? Depending on the type of stone, your regular maintenance may be etching your stone. Your cleaning methods could be creating more stains as dirt, soap scum, and soapy water get stuck. Most people don't pay attention to the chemical composition of the products they use to clean their beloved homes, but they should! You wouldn't wash your hair with detergent or wash your dishes with perfumed hand soap, right? Similarly, different kinds of surfaces require different types of maintenance. Below, we have a list of the most common cleaning agents and why you should avoid them.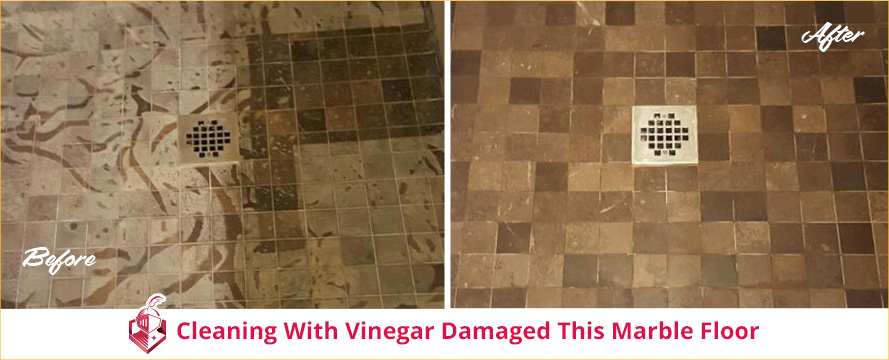 Vinegar:
Vinegar is one of the most commonly recommended "home remedy" type of cleaners for hardwood floors. Supposedly, vinegar cuts through the dirt without damaging the floor. The reality is that the acid in the vinegar will etch away at the finish, getting rid of its shine. Even though many people rely on vinegar to clean, we highly recommend you do not use it to clean your tile and grout, because it will end up discoloring your floors. In other words, if a dull and splotchy appearance is desired, use vinegar.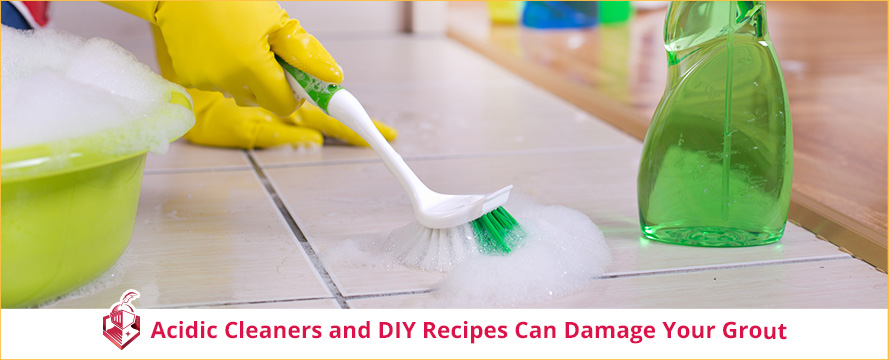 Acidic cleaners:
Acidic cleaners attack and dissolve hard stains, breaking them down and making them easier to remove. However, mineral-based stones, such as travertine, are heavily etched by acids. Acid-based cleaning chemicals can also damage your tile and grout. Etching can be reversed, but requires re-polishing, which can be expensive. Most regular household cleaners are acid-based.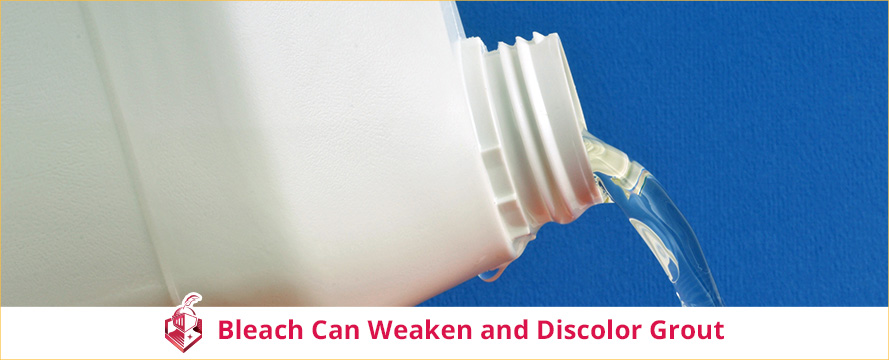 Bleaches:
If you are "cleaning" with bleach, you are not actually cleaning. There seems to be a misconception in general that you can clean with bleach. The fact is, bleach does not have a cleaning agent and therefore, is not suitable for cleaning. Bleach usually requires pre-cleaning to achieve its claims, meaning you must follow a two-step process. Some studies confirm that the effect of sodium hypochlorite, contained in most bleaches like Soft Scrub and Clorox, will slowly disintegrate concrete, which is the main ingredient in most grout.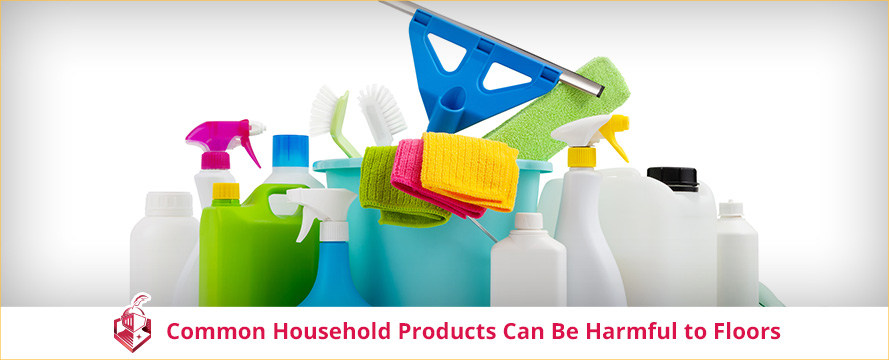 Ammonia:
Ammonia is a common cleaning agent found in many cleaners you buy at the store, like Lysol and Pledge. It can also be purchased as a stand-alone cleaner. Unfortunately, using ammonia on a hardwood floor is almost the same as using vinegar. While the results it provides are almost identical, the smell of ammonia is slightly different than that of vinegar. In either case, your tile and grout's finish will be damaged by the ammonia. Want a useful tip? If you have pets, never use ammonia to clean up "pet messes" (especially for cats) because the ammonia smells like urine to them. The smell will confuse the animal and most likely will make them want to pee wherever you use it.
How do I properly maintain my floors?
The right maintenance routine depends on your type of floor. We highly recommend cleaning your porcelain or ceramic tile surfaces with a pH-neutral, soap-less floor cleaner. A good cleaner contains no rusting or corrosive properties - so it won't discolor or damage the surface of your tile and grout.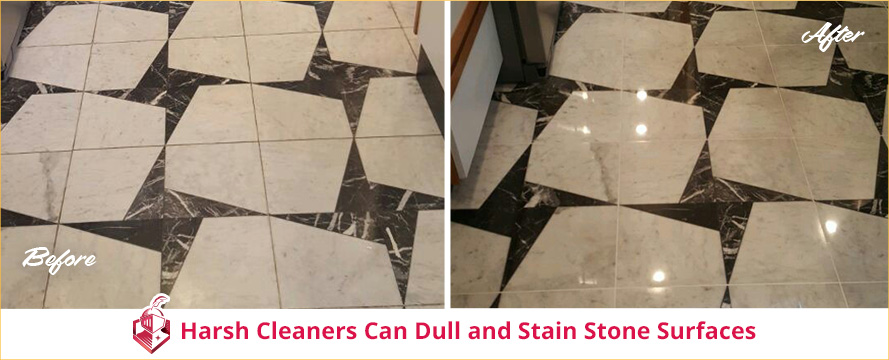 When performing routine cleaning, remove dust and dirt by vacuuming your floors frequently. Avoid using acid or ammonia-based cleaners! As we mentioned above, these can cause etching, dullness, and affect the color of the grout. You should also keep in mind that some stone surfaces require more gentle treatment. Depending on the type of stone you have, at Sir Grout, we will deep clean even your most delicate stone with safe chemicals and our state-of-the-art, soft brush vertical scrubbing system.
Sir Grout is the leader in tile and grout cleaning and recoloring services. Our technicians are highly experienced professionals, and our ColorSeal is an excellent product with dramatic results for stained grout that has been damaged by cleaners. Call Sir Grout at
(866) 476-8863
to get an estimate on tile and grout cleaning and recoloring with ColorSeal.