Do You Have Efflorescence in Your Bathroom? Professional Cleaning and Sealing Can Take Care of It
March 08, 2016
Efflorescence is a common problem seen in bathrooms with stone tile and various other types of masonry. When those hard white spots show up in your home, usually on your shower floor, it's a bad sign: a sign that water is penetrating the material. We all know how dangerous water damage can be for a home. So when you feel that rough texture start to build up on the tile, don't ignore it – there's a reason it's interrupting your relaxation. Your home – and at the very least, your expensive stone tiles, are at risk the longer you let it accumulate.
What is efflorescence? Well, efflorescence is a coagulation of materials that were once present inside the stone tiles or masonry in your home. As water penetrates the tiles, out comes the efflorescence. Most importantly, this is a sign of water and potential water damage. Consider this an alarm bell for your bathroom, because the sooner you catch it, the less maintenance you'll have to do on your home in the long run. How can you fix it? Well, a
stone cleaning and sealing
by professionals is the ideal way to go. If you're not sure your floor has efflorescence, it's a good time to identify it. Take a look at the photo below. See the "whispers" of white that appear as if extra grout has run over the tile? Well, that's not grout. That's efflorescence.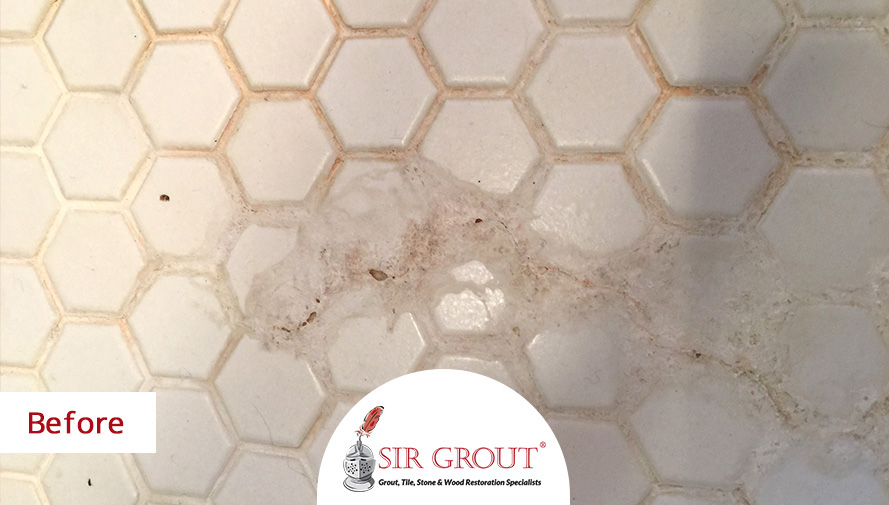 This unsightly mineral deposit does its damage over time. Sir Grout can remove efflorescence and ensure that it won't readily return.
How Does Efflorescence Form?
When salts and minerals collect on masonry, they form efflorescence. Prior to exposure to water, these elements are actually stuck inside the stone. Once water dissolves the minerals inside the stone, they are drawn out of the small pores inside the stone. This happens after water is left sitting on masonry. Usually, cold, dry air pulls liquid out of the stone surface, leaving the hard, salty growth on top. It most often forms in winter.
This moisture must penetrate the surface to start a buildup of efflorescence, so it can be a sign of two things. The first sign is that your seal is bad – either your seal has broken down from wear and tear, or a seal was never applied in the first place! Secondly, it may signal that water damage is occurring to your home underneath the stone.
How Do I Get Rid of It?
Whatever you do, please don't try to get rid of it yourself. There may be a million DIYs online that make it look cool or easy, but we don't recommend you try them. The common methods can be damaging to your property for various reasons. For example, many recommend using high pressure and water to diffuse the efflorescence buildup, but this can backfire, causing more water to absorb into your floor. You know what that means: water damage! Another common recommendation is to use an acid, which is actually an even worse idea. Acidic cleaners will completely break down your remaining seal and even threaten the health of your stone and grout. Also, never forget that acids are toxic! You can seriously harm yourself if you are not careful.
The bottom line is, you should leave efflorescence removal to the professionals. We can not only remove it safely, but prevent its return. Remember, just removing it is only treating the symptom. The real problem is the broken seal on your stone, tile, or grout.
Preventing Efflorescence
The best way to prevent efflorescence is to maintain your seal. As long as the seal on your floor is in good condition, water cannot penetrate the stone. However, if you can't get it fixed right away, the next best thing is to keep the floor completely dry. Don't leave behind any standing water – it will absorb into the stone and cause more efflorescence. Dry off your floor, to prevent some of the damage until you can have a professional evaluation.
Efflorescence Is a Sign of Damage!
Don't ignore efflorescence – this can lead to damage to your home. Any sign of water automatically denotes a water problem in the home. This could mean floor damage, and also shows the potential presence of mold and mildew, very serious health hazards. When you see efflorescence, it's time to act – the problem will only grow if you do nothing about it, and attempting to wash it the wrong way can do further damage.
Are you seeing efflorescence in your home? Give Sir Grout a call to discover if what you're seeing is efflorescence or mold. Call us at
(866) 476-8863
and book your free evaluation, today!
If you found this article helpful then let us know in the comments section below. Likewise, feel free to share it using the share options below. Want us to cover another topic of your interest pertaining to hard surface restoration? If so, then like us and follow us on social media, and post to any of our social media profiles the topic you'd like us to discuss:
Facebook Sir Grout
,
Instagram @sirgrout
, and
Twitter @SirGrout
.