Does Your Shower Have Mold, Mildew and Soap Scum Like this One?
May 03, 2016
Does your shower look like the one in this video? Here's a breakdown of problem areas in the shower. Discover how to spot these typical issues in your shower before they cause water damage in your home. Most of the time, a new
grout recoloring and sealing
will solve the problem.
In the video above, you can see this typical white tile and grout shower looks very dirty. In this customer's home, every example of tile and grout problem is visible – and if they had not been taken care of in a timely manner, the problems would have led to costly water damage!
Read more below to discover the usual suspects, how to identify them, and more.
Mold and Mildew
Mold and mildew are one of the easiest problems to identify in a shower or bathroom. The first big clue that you have mold and mildew is not visual – you should be able to tell based on smell! Mold has a distinctive, musty smell that can permeate your entire bathroom and home if allowed to grow.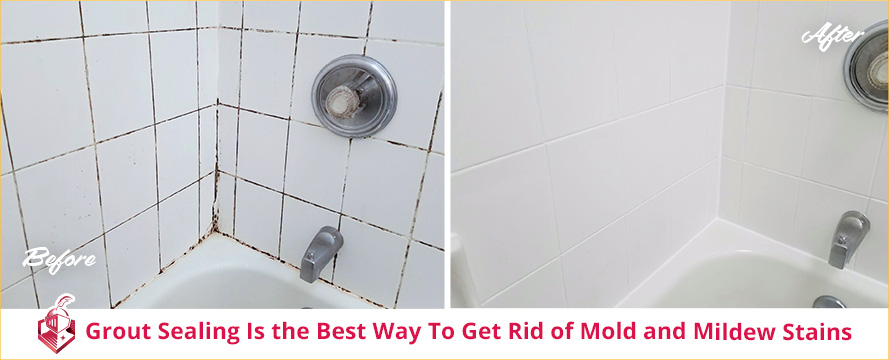 Mold and mildew are not only stinky, but they also form grey and black splotches in your grout. If they are not cleaned quickly, they can leave a stain on the grout – at this point, unless you get it resealed, you'll never be able to tell if your grout is clean, because the ugly mold color will stick to the grout unevenly.
Soap Scum
When mixed with hard water, soap creates a tough film on the surface of the shower and glass surfaces within the shower, like the doors. When droplets of hard water dry out in your shower, they leave behind minerals. The soap scum becomes attracted to the minerals, and buildup occurs very quickly.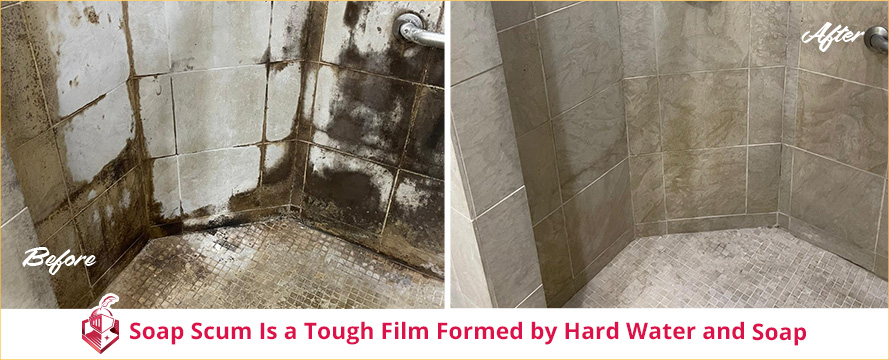 It's easy to identify soap scum – it looks white and foggy, almost scale-y in nature. Often dirt will stick to it instead of running down your drain, and at that point it may take on a brownish/greyish color.
When you attempt to clean soap scum, despite what you may read on DIYs and online forums, it's not a good idea to use an acidic or alkaline cleaner. While it may effectively remove your scum, it will often remove your seal as well, leaving your grout exposed to the elements and vulnerable to staining the next time scum builds up.
Unsealed Grout
Oftentimes, when grout is installed, it needs to cure for a little while before it can be sealed. As a result, many people do not get the follow-up of a grout sealing on their grout. This essentially leaves the grout unprotected to the humidity and harsh environment of the shower.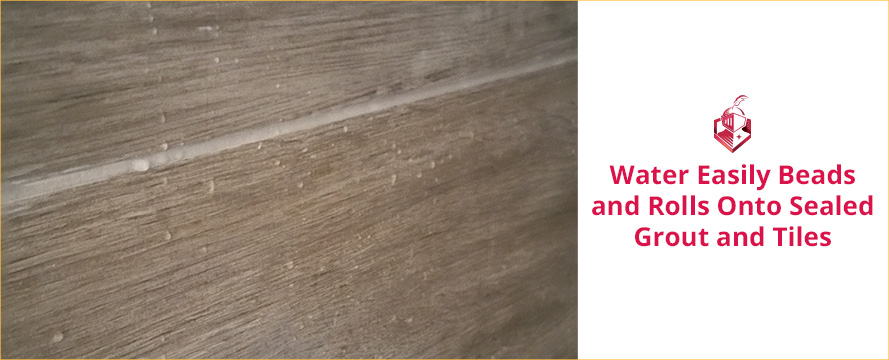 Check your seal by putting a little water on top of your grout. If the water beads and remains beaded after a few minutes, your seal is intact. If the water disappears and appears to absorb into the grout, your seal is compromised, and your grout may start cracking and deteriorating as demonstrated in the video above.
A grout's seal does not last forever – it may last up to 24 months or more, depending on the type of seal. When you discover that your grout is losing its seal, it's time to get it resealed.
Does your shower suffer from any of the problems viewed in the video above? If so, give us a call at
(866) 476-8863
. Regular maintenance is important to keep your house in the best shape possible.
If you found this article helpful then let us know in the comments section below. Likewise, feel free to share it using the share options below. Want us to cover another topic of your interest pertaining to hard surface restoration? If so, then like us and follow us on social media, and post to any of our social media profiles the topic you'd like us to discuss:
Facebook Sir Grout
,
Instagram @sirgrout
, and
Twitter @SirGrout
.