Get Rid of Rust and Dye Stains in your Shower with a Tile and Grout Cleaning and Sealing Service
March 02, 2022
A clean and pristine shower is a sacred place that people use to bathe and wash their problems away, preparing themselves with positivity and energy for the new day they'll encounter.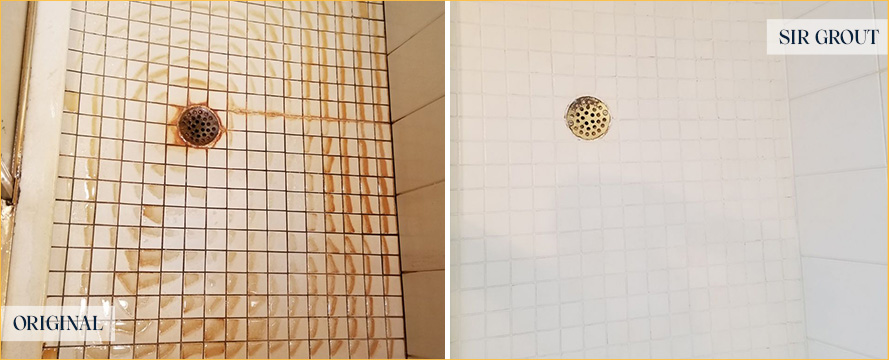 The more pristine the shower, the more it helps people prepare themselves for the new day ahead. It's as if these two things are connected. The problem arises when the shower becomes grimy, and you find black stains on grout due to mold and mildew. It gets even worse when orange and purple stains are also present.
The shower stops being that sacred, beloved place and that energy and positivity seems to drain away. Under these circumstances, and intending to recover their sacred place, people will use any cleaner they can get their hands on and worsen the problem.
Those stains, especially the orange and purple ones, won't go away with normal cleaning products. You can make those stains go away with a
tile and grout cleaning and sealing
.
The video above shows that this homeowner's shower has three main problems: mold and mildew in the grout lines, orange stains, and purple stains. Mold and mildew are some of the main causes of home deterioration, and they mainly form due to the bathroom's humidity, lack of light, condensation, poor ventilation, etc.
The caulk in the video above degraded due to a large amount of iron in the water, which is responsible of the orange stains, and the purple stains come from a product used to clean the tiles called Fabuloso. The product has a wonderful fragrance that many homeowners love, but it also contains a dye. The dye from the cleaning product has tinged the grout, causing those undesired purple stains.
A shower shouldn't be a difficult place to maintain – it just needs to be cleaned with the proper product and be kept in ideal conditions. To return the beauty to this shower, a tile and grout cleaning and sealing can do the trick.
First, we clean your grout with a pH-neutral cleaner, then we perform a deep clean with a gentle scrubber to extract the dirt from your grout. For particularly stubborn areas, vapor steam cleaning may be used.
Our last step is to apply Sir Grout's proprietary Tile Armor. Tile Armor is a sealant used to seal and protect your tile and grout against future stains, and it even makes it easier to clean.
Check out the picture at the beginning of this article and see how easily this shower was returned to its pristine state with a tile and grout cleaning and sealing job! The sealer applied by Sir Grout's specialized team will protect your tile and grout from future stains, but some recommendations must also be followed.
First of all, you should always use pH-neutral, soap-less cleaners and ditch all your other cleaners, especially the ones with dye. You should keep your shower dry with a towel or terry cloth and ensure it is well-ventilated.
It is important to follow the recommendations above to ensure that your shower remains as beautiful as the one in the picture. If you are unsure if the cleaner you are using is pH-neutral, read the labels or use pH strips. That way, you will prevent mold and mildew growth in your bathroom.
Do you have undesired stains in your shower? If this is the case, a tile and grout cleaning and sealing will solve the problem. Contact us at
(866) 476-8863
or click on the "Schedule a Free Quote" button for a free evaluation today, and enjoy an unparalleled tile and grout cleaning service!
If you want to keep reading wonderful tips on how to care for your hard surfaces, don't forget to
subscribe to our newsletter
.