Keep Your Pets Happy and Your Hard Surfaces Flawless with These Care Tips
April 26, 2022
Most people love to get home after a long day at work or school and be welcomed by a cheery, playful dog. Others, on the contrary, prefer the friendly gesture of a cat bumping his or her head against them.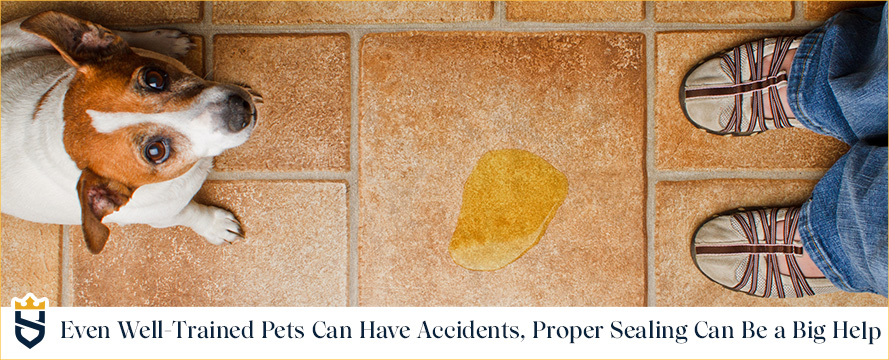 Whether big or small, playful or calm, furry or feathered, the truth is that pets always lighten up our lives and our homes; we love them, we take good care of them, and we always want them to feel comfortable, just like any other member of the family. Nevertheless, let's face it – sometimes they can be really messy.
All pet owners have gone through it: shoes hidden underneath the living room furniture, trash cans laying on the floor, garbage all over the place, urine in the strangest places.
We tend to forgive our pets when we look at their adorable faces, but what most people are not aware of is how much those daily inconveniences can damage hard surfaces to the point where professional
tile and grout cleaning and sealing
services are necessary to restore them.
Common problems caused by pets and how to prevent them
Clay tiles and all natural stones, from granite to travertine to slate, are porous to a certain degree; that is to say that they can absorb liquids and thus are prone to staining from any kind of spill. What's more, grout is even more porous.
So, in short, any kind of liquid can stain your hard surface, whether it comes from pets' food spills or from the trash can knocked over by your pet. To prevent this problem, spills must be cleaned immediately after they occur. You can save time by always keeping a pH-neutral, non-toxic cleaner at hand.
That way, as soon as an accident happens, you will have all the tools you need to fix it ASAP. Periodic mopping is also important, since that's the only way to maintain your surfaces clean from all the dirt that your dog or cat might track into the house after playing outside.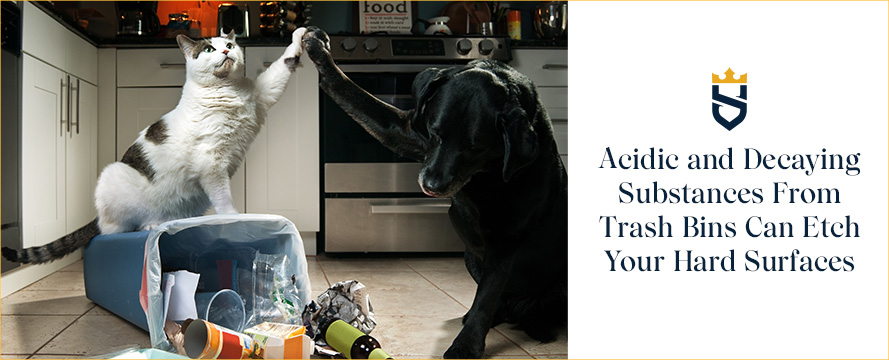 Natural stones like marble, travertine, limestone, or onyx particularly need special care. These stones are categorized as calcareous and are mainly composed by calcium carbonate. Therefore, they are highly sensitive to acidic substances, and guess what? Pet urine is acidic.
Urine can etch and dull a beautiful stone surface in a matter of seconds, especially those that are unsealed. Besides, sometimes the stench – especially from cat urine – can be very hard to withstand and to remove if it's not immediately cleaned. Sealing your surfaces with a quality sealer is the most effective way to prevent etching or staining.
A sealant will keep liquids at the surface, making them easier for you to clean. You should also know that this procedure must be performed periodically, given that the more you use a surface, the quicker the sealer will wear. Our experts recommend
testing your sealer
every three months to check if your surface needs to be resealed.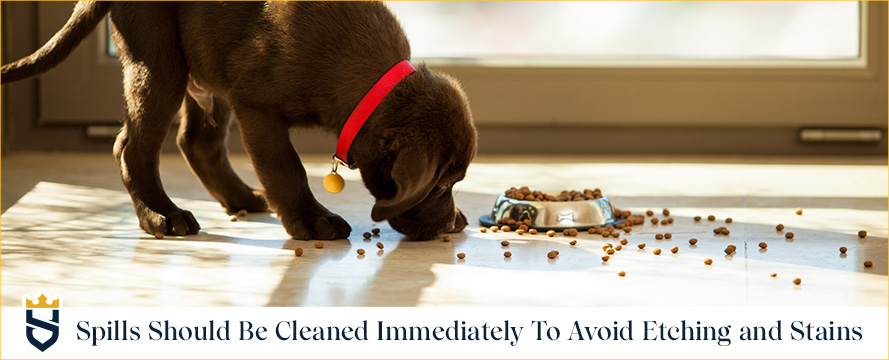 On the other hand, apart from proper cleaning methods to protect your hard surfaces, you must also take good care of your furry friends and educate them on how to behave appropriately inside the house. Teach them to keep away from garbage cans, especially in kitchens, where they can cause spills of acidic substances. If possible, use pet- or child-proof trash cans.
Also, did you know that your furry friend's nails can be an enemy to beautiful hard surfaces, especially to marble, limestone, and any other type of soft rock? Your pet's claws can cause scratches that can only be buffed out with a professional stone restoration service.
It is essential that you keep your pets groomed and their nails trimmed to minimize the chances of scratching. Finally, as a domestic care tip, you can put rugs or mats in high-traffic areas — tile and stone surfaces tend to be cold, so using carpets or mats can help pets keep warm and provide extra protection to your floor.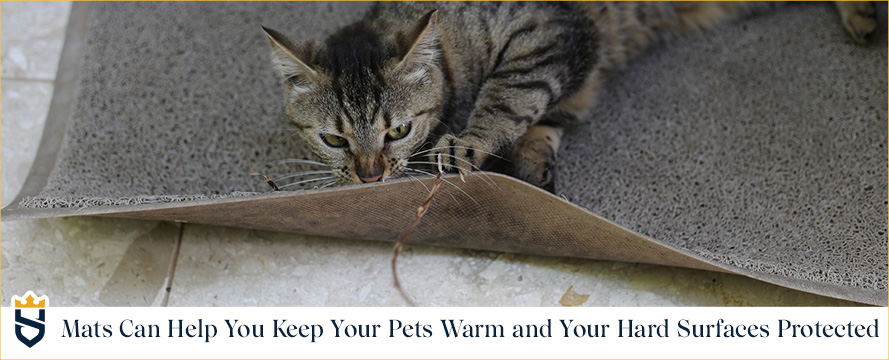 Owning a pet does not mean you cannot have a beautiful tile or stone surface installed in your kitchen or living room. As you can see, a few extra care tips and regular maintenance will not only keep your hard surfaces looking flawless, but will also make you feel more at ease about letting your pet wander around the house. Just remember these care tips and train your animal companions — you don't have to leave them outside!
In case your stone floor, countertop, or wall are already damaged, don't worry! There are plenty of professional
stone cleaning and sealing
procedures and other stone restoration services that will refresh your hard surfaces and leave them like new. No stain, etch, or scratch is entirely permanent; you only need professional expertise!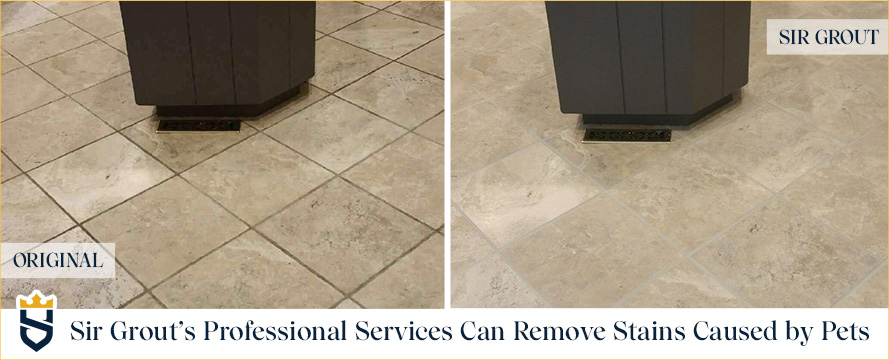 If you're looking for professional experts that can restore, clean, and seal your hard surfaces or your grout, we are exactly what you're looking for. At Sir Grout, we offer services that can protect your surfaces from common pet problems or fix those that are already damaged.
For more information, you can contact us at
(866) 476-8863
or click the "Schedule a Free Quote" button on this page for a free, in-home evaluation. For more useful tips to take proper care of your hard surfaces, subscribe to our
newsletter
.