Make Your Grout Merry with These Holiday Cleaning Tips
December 18, 2015
A picture of happiness, joy, and beauty awaits your home throughout the Christmas season.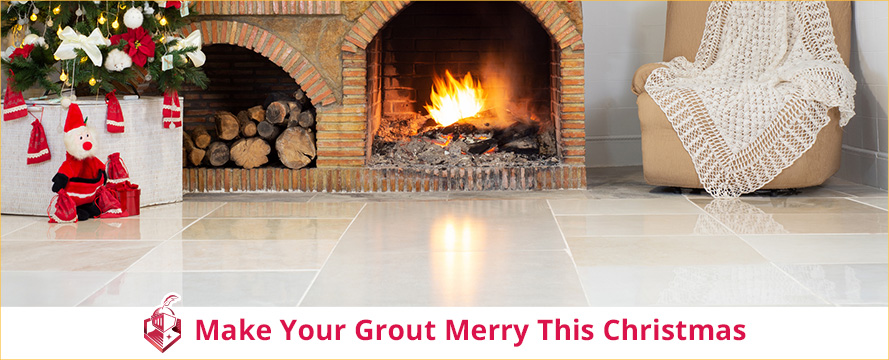 We all have our own traditions for these special times, and most involve beautiful decorations and visits from friends and family.
Whatever the case, if you plan to make your home the center of your holiday season, you'll have to dress it up for the occasion. And with your home, dressing up requires some serious tidying up as well!
So, before you set up decorations and bring all of those nice people into your home, you should prepare your floors with some thorough
tile and grout cleaning
.
After all, if you're going to adorn the house with all these beautiful decorations, remember that they will look best on an impeccable floor. A clean floor will really make your house shine with holiday cheer.
Ho! Ho! Ho! All The Clutter Must Go!
There are still a few days left, and you might think that Christmas is still far away, but the truth is, there are only a few days left! The sooner you start, the better.
Christmas Eve should be spent with a clear mind that can relax and enjoy the moment. Don't waste your time on last-minute house cleaning rounds that could make you a grumpy a housekeeping Grinch.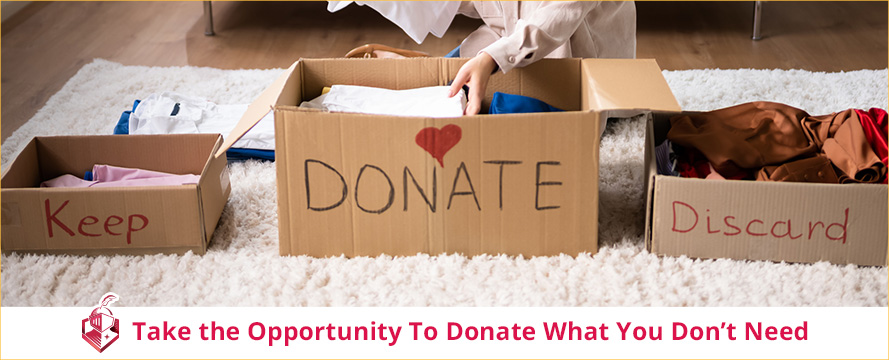 Before you do this you, need to set some priorities: Where do I need to clean first? Where will my guests spend most of their time? Which areas are more difficult to clean?
Start working on these problematic areas first, and then work your way down to simpler or less visible areas of your home. The extra benefit to starting early is that you'll have plenty of time to finish before the festivities.
To get a good start, look at your floors and start removing all unnecessary items that can get in the way.
Begin with toys and non-essential decorations, working your way up to bigger objects like tables, chairs, and eventually, larger pieces of furniture.
Be sure to store these items in a safe place so that they don't suffer the risk of being damaged or worse, permanently stained.
Give Your Grout a Christmas Cleaning Miracle
Here is the one thing that will make all the difference in your home: cleaning the floors.
You see, even if your decorations resemble something out of the most fantastic Christmas tale you watched on TV during your childhood, if they're placed over grimy floors with moldy grout, or badly scratched granite, it'll be like putting on some nice clothes right after rolling around in mud.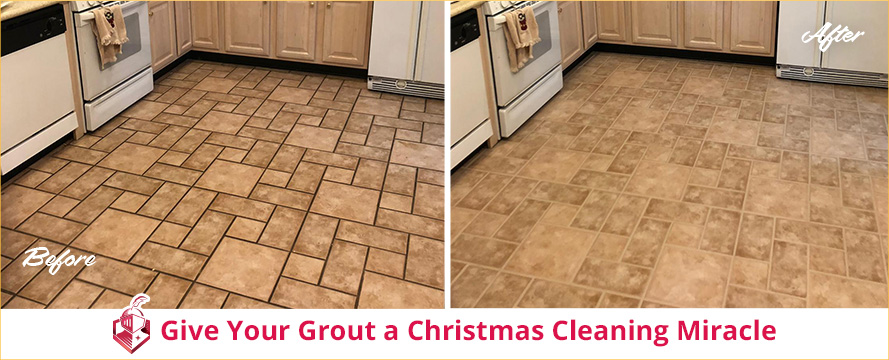 Since your Christmas cleaning spirit is at full speed after all of that de-cluttering, now comes the time for some serious sweeping and vacuuming. After all, if you start mopping, scrubbing, and polishing over crumbs and dust, you'll just be spreading dirt throughout the floor.
The next step involves using a cleaning product, and this is the most important part of the process. You'll need a cleaner that attacks grime on both tile and grout, but does not erode it or wear it out like acidic or alkaline cleaners.
You should mop with a diluted soap-less cleaner, like the Sir Grout ph-neutral soap-less Cleaner, made for these surfaces. With holiday cheer (and maybe some music!) you'll proceed to mop the floors as usual, ensuring the water you're using doesn't get too dirty.
If soil or dirt accumulates on some surfaces, use some of the undiluted cleaner. Let the cleaner rest on the floor for five minutes – this will scare the dirt Grinch away and let Christmas cleanliness shine bright. Then, apply water to remove the cleaner. When removing it from your grout, use a clean towel, since dirt will remain in the concave stone surfaces of your grout lines once the water evaporates.
Keep The Cleaning Spirit Alive!
Ok, so the floors are clean! Tile, grout, and all. Now what? Well, now, you keep it that way throughout the holidays! It sounds easier than it actually is, since there'll be a lot of people coming in and out of your house.
Now that your floors are clean and bright, setting up the Christmas tree and all the decorations will be a delight. Just remember to be extra careful so your marble and stone floors don't get scratched. We recommend getting some tile and grout sealing done beforehand.
Christmas spirits should be high, and a little spill from a careless guest shouldn't ruin the season. If you keep a watchful eye and attend to small stains quickly, your floors will remain clean until next year.
After all that cleaning and decorating is done, it's time to sit back and spend time with your loved ones. After all, having a clean house is all well and good, but the thing that will really make you happy is a warm home to share with those close to you.
If you need help or run out of time, call the experts at Sir Grout at
(866) 476-8863
for a free quote today!
Merry Christmas and Happy New Year!