Don't Cry Over Spilled Juice: Quick & Easy Remedies for Stained, Etched, or Scratched Stone
August 15, 2015
Accidents happen, but what's the use in getting upset? Spills and stains are inevitable in your home, especially if you have young children or pets running around and knocking over glasses of juice, wine, or anything that gets in their path of destruction. Instead of getting upset, you can now rejoice because all hope for your hard surfaces is not lost! We are here to help you fix any stain, etch, or scratch mark that your stone may encounter. Take a look at the before and after photos from this
residential stone honing
job that took place in Boston, Massachusetts. What could have caused those terrible etch marks on the before photo?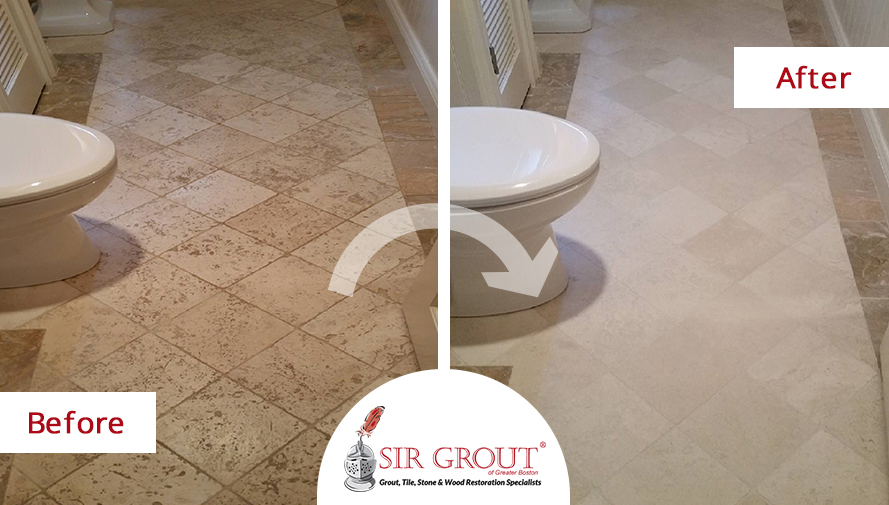 Not all damage is permanent, and many etch marks and stains in your granite, travertine, marble, or limestone may be buffed out of your stone. However, before we dive into the remedies, let's first analyze the differences between stains, etch marks, and scratches.
Is It a Stain?
If a substance has seeped into the stone itself and has caused a mark that is noticeably darker than the stone, it is considered a stain. Stones that are more porous, such as marble and travertine, are more likely to become stained as a result of their higher absorption rate. This is a good reason why stone surfaces should be properly sealed when installed, and then resealed every 12-24 months. For all your stone sealing needs, we recommend calling Sir Grout.
Is It an Etch Mark?
When acidic (pH < 7) substances come into contact with a stone surface, they respond by corroding the stone. This can dull the luster on your stone surface and change its texture. Etch marks often get confused as stains, but etch marks are always a lighter color than the stone, while stains are darker.
Take a look at the video below from our Fairfield location to discover what an etch mark on stone looks like.
Is It Scratched?
When sand or anything abrasive rubs down on stone, it can scratch and eventually dull the finish of the surface. The harder the stone, the less likely it is to get scratched, which is why granite is a more scratch-resistant stone than marble, slate, or travertine.
Strike Out Stains
It is important to note that when a surface gets etched, the corrosion makes it possible for the surface to be both etched and stained simultaneously. Common causes of stone stains include rust, red wine, and any other darkly pigmented substances.
When something spills that could potentially leave a stain, refrain from wiping the spill away. Instead, place a towel over the spill to soak it up. Next, clean the stain by applying a solution of dish washing soap that is heavily diluted with warm water and let it sit. Then, thoroughly remove the solution with a towel. If a stain remains, you will need to use a poultice to remove it.
A poultice is a paste that is used as an absorbent medium for removing stains from stone. When a poultice is applied to a stone's surface, the solvent in the poultice will dissolve the stain's particles. As the poultice dries, it soaks up the moisture in the stone, simultaneously absorbing the particles of the stain. The poultice may need to be reapplied anywhere from 1-5 times.
Eliminate Etch Marks
Red wine, coffee, oranges, perfume, lemons, vinegar, grapefruits, and acidic cleaning products are all examples of substances that can result in etching when in contact with a stone surface. This stone etching happens as a result of their acidic composition. For this reason, always use a pH-neutral cleaner, such as the
Sir Grout Tile and Grout Maintenance Cleaner
, when cleaning stone.
To remove any unattractive etch marks from polished surfaces, apply a stone polishing powder and then buff the area until the mark disappears. Alternately, if the surface has a honed finish, you can remove etch marks by mixing a few drops of mild dish detergent with a few cups of warm water and then applying this solution to the etched surface. After letting the solution sit, buff the area.
If the etch mark is deep, your best bet is to request the help of professionals, such as Sir Grout. We can hone, polish, and
refinish stone
surfaces. To see an example of how great an impact Sir Grout's services can have on your stone, take a look at the before and after picture above showing an etched travertine bathroom floor that has been honed, polished, and sealed.
Square Away Scratches
Scratches in your stone surfaces can be caused by leaving heavy objects on the stone, using cleaning supplies that are too abrasive, or having rough particles repeatedly rubbed against the stone. As these items scratch away at the stone's surface, they can cause it to lose its luster and finish.
To remove light scratches from your stone surfaces, all you need to do is buff the area. However, if the scratch in your stone is a bit deeper, you will need to call a professional to repair and polish the area. The hard surface experts at Sir Grout are highly experienced in restoring stone surfaces and are the best people to call when you need to have this done.
When an unwanted mark of any type shows up on your stone, you are now prepared to remove it yourself. Being able to tell what type of mark you're dealing with is crucial, but also having the knowledge to remove that mark, regardless of its cause, helps you to make your stone surfaces invincible. However, we all can use a helping hand once in a while, and Sir Grout is a leading expert in hard surface restoration. We can quickly, conveniently, and affordably restore your stone back to its original beauty.
Does your stone surface need the assistance of a professional? Fill out the form below to schedule an appointment with your local Sir Grout today.
If you found this article helpful then let us know in the comments section below. Likewise, feel free to share it using the share options below. Want us to cover another topic of your interest pertaining to hard surface restoration? If so, then like us and follow us on social media, and post to any of our social media profiles the topic you'd like us to discuss:
Facebook Sir Grout
,
Instagram @sirgrout
, and
Twitter @SirGrout
.