What Causes Grout To Crack and Crumble?
May 06, 2022
Grout used to be an afterthought. It was thought of as a filler used to keep tiles in place and help keep away moisture. But there's more to it than that.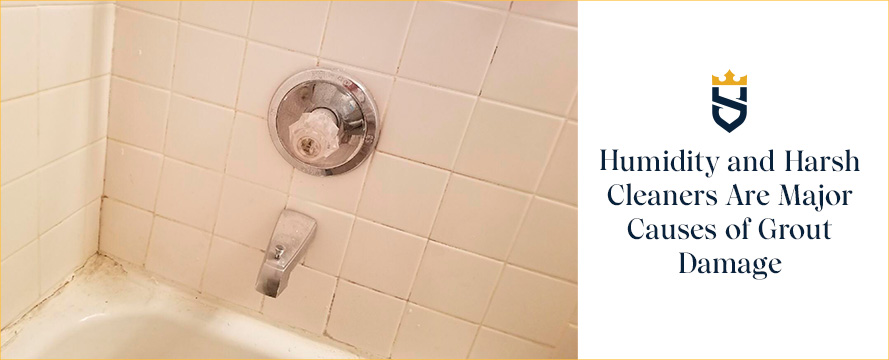 Grout also protects the edges of your tiles by preventing them from pressing against one another, strengthening their structural bond.
Today, the artistic possibilities of grout customization have become more widespread, with designers, contractors, and homeowners taking advantage of enhancing the aesthetic appeal of their tile projects.
The grout you use has become as important as the tiles themselves. That's why there has been a growth in the popularity of grout being used as a design element; countless homeowners throughout the U.S. customize their grout, even if it's just in the bathroom or kitchen area.
While grout has great design potential and serves a structural purpose, it doesn't come without a downside.
One of the
biggest problems with grout is its tendency to crack and even crumble away
. Grout cracks for various reasons, and when it does, it turns a beautiful tile floor that enhances the overall beauty of your home into an unsightly mess.
What Causes Grout To Crack and Crumble?
Having cheap and inferior grout installed between your tiles can be a problem.
Most grout is cement-based and comes in sanded and unsanded varieties. While this type of grout can be less expensive, it is porous by nature. It must be sealed properly to keep moisture from seeping into the grout and beneath your tiles. Even when cement-based grout is sealed, it can lose that protective coating over time.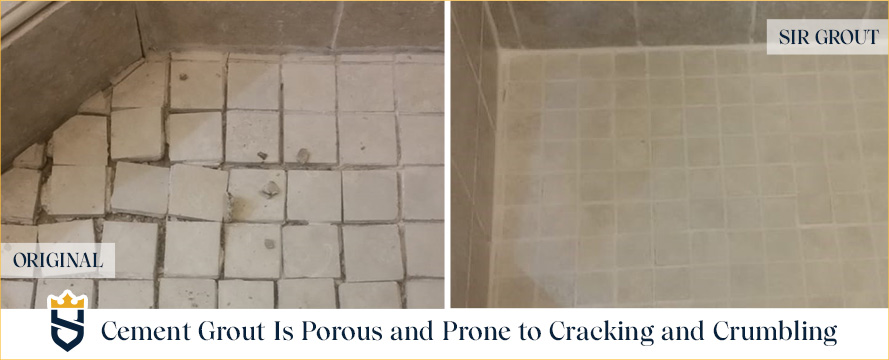 Reasons for this include the use of harsh cleaners, heavy foot traffic, and time itself. Homeowners don't often think about whether or not the seal on their grout is still effective. When it no longer is, the grout begins to fall into a state of disrepair.
Moisture is another enemy of porous grout, particularly if the grout is used in an outdoor floor project, in a bathroom, or in the kitchen area. Any area where there is moisture present or where there is a risk of frequent spills can be harmful to grout over time.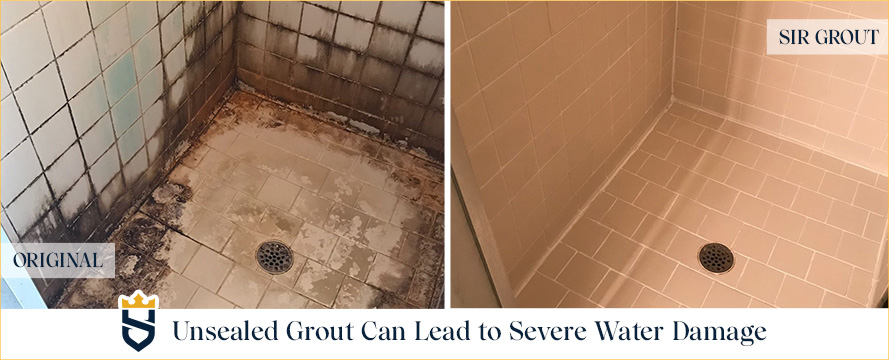 Moisture getting into your grout can cause another issue, which can lead to serious health issues: Black mold. Porous grout absorbs water droplets, especially in the bathroom, where hot showers create enough humidity to create the perfect environment for germ growth.
Steam creates enough moisture to get inside the tiny holes of the porous grout, eventually weakening it or even causing the growth of black mold and other fungi. This not only leads to the grout cracking and crumbling, but it becomes a health issue on top of that.
Grout Restoration and Sealing
Fortunately, all is not lost when the grout in your home begins to crack and crumble. You don't even need to pay the expense of a remodel or renovation. In most cases, a simple grout restoration and grout sealing, or re-sealing, will do the trick.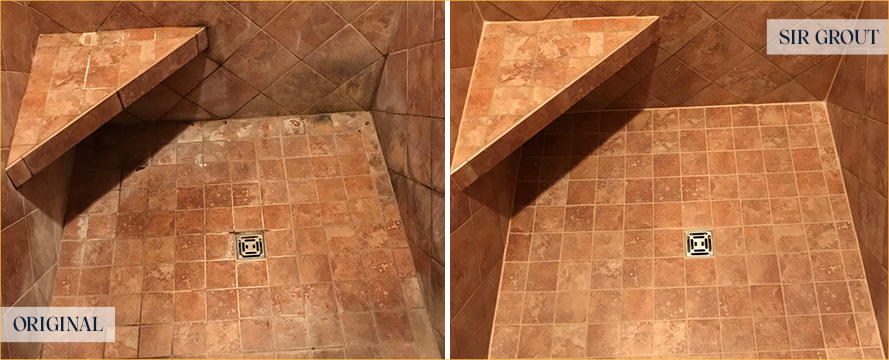 Grout restoration is a process that involves completely cleaning and re-coloring grout lines and replacing worn-out grout to restore them to their original state of functionality and aesthetics.
On the other hand, Grout sealing is the process of applying a sealant that will prevent future damage from exposure to moisture and other elements that can be detrimental to grout.
Of course, grout restoration and sealing are only effective if you trust the company performing those services for you. Sir Grout is that company you can depend on for one of the best hard surface restoration services anywhere. And best of all, we have many
locations
throughout the United States.
We are innovators in the hard surface care industry, specializing in the needs of homeowners and businesses alike. We know that our customers appreciate convenient, cost-effective, professional results, so we have and will continue to develop products to restore your hard surfaces to their original state.
We have a range of proprietary cleaning methods and products that put our company and the results we achieve in a class above other companies in the floor restoration business.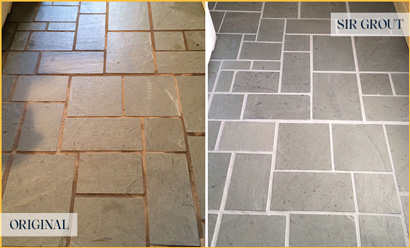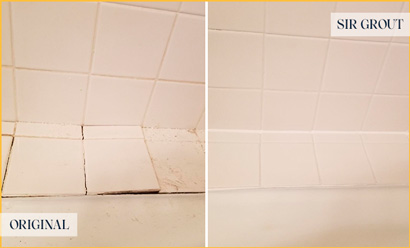 If you're having problems with your grout and you need restoration services or sealing services, we invite you to let us show you how we can restore your tile and grout to the way they were when they were new.
A typical grout restoration and grout sealing process can be done in a day. We start by cleaning the area using our exclusive pH-neutral tile, grout cleaner, and high-speed scrubber. Our cleaner is safe for tiles and grout because it doesn't contain or leave behind toxic residues.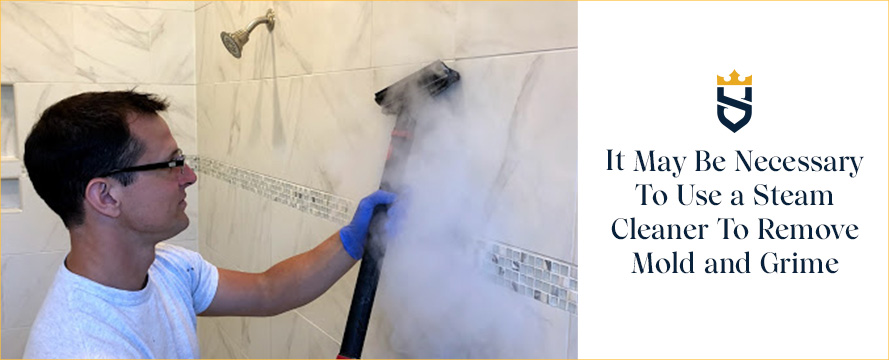 Sir Grout's Natural Hard Surface Cleaner
is enhanced with an ingredient that can help inhibit the growth of bacteria, fungi, mold, and other microorganisms on your hard surfaces. We also use a high-temperature steam cleaner to remove any mold and mildew from the affected areas.
After thoroughly cleaning, we repair any damaged grout with our professional grout restoration process and use our exclusive ColorSeal for grout coloring and sealing.
We have an extensive list of grout recoloring options for you to choose from to suit your preferences. The results of our meticulous process will leave you with tile and grout looking brand new. Check our
locations
to find a Sir Grout near you.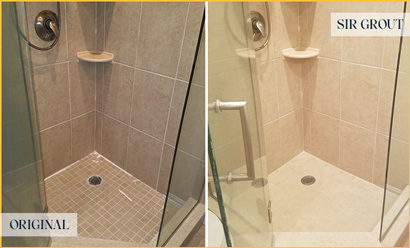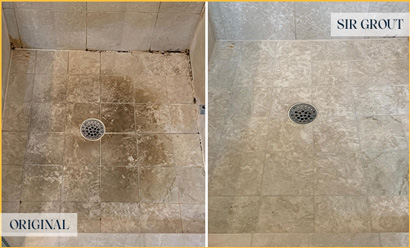 At Sir Grout, our customers are our number one priority. Our past customers are our best references. Sir Grout's exclusive products, professional technicians, and our commitment to meeting all of your hard surface restoration needs make us the best choice when you need grout restoration and sealing or any other type of hard surface restoration work needed.
We make it easy for you to learn more about our services by offering free in-home consultations. Our technicians are there to make it fast, easy, and convenient for you to learn about Sir Grout's high-quality professional services.
Our technicians are trained extensively and can help you find the right solution for your hard surface problems. They will assess your situation, offer the best solution to your grout problems, and explain how the process works.
Don't let grout give your home an ugly appearance. At Sir Grout, we have the solution to your hard surface issues. Our award-winning grout restoration and grout sealing processes will bring your tiles and grout to life again. Call us at
(866) 476-8863
or click on the "Schedule a Free Quote" button for a free in-home consultation.
We will be glad to help you. To keep up with the latest information and promotions, subscribe to our
newsletter
.